In the face of the ugly truth behind the beauty industry, our country recently became the first country in South Asia to ban the testing of cosmetics, soaps and household detergents (and its ingredients) on animals. Yes, that means every cosmetic product or brand of Indian origin that you purchase would be cruelty free!
What is the big deal about cruelty-free though?
Almost every major make up brand (L'Oreal, Mac, Maybelline, Bobbi Brown and more) resting in your dresser reaches the market shelves when it is approved by safety tests including eye-irritancy tests, skin-irritancy tests, skin-sensitization tests and lethal-dose tests.
These tests are painful, forced experiments carried out on millions of bunnies, cats, dogs, mice and monkeys, trembling in the corner of a confined cage as you read, awaiting the next terrifying procedure. These living, breathing beings are subjected to a lifetime of suffering, all for us to paint our nails, highlight our cheekbones and color our lips. Practices like forceful ingestion, dripping products into their eyes, rubbing chemicals on raw skin and killing more than 50% of these lab-kept animals every day are common.
Major, global cosmetic companies like L'Oreal, Maybelline, MAC, Bobbi Brown, and many more all resort to this inhumane and outdated procedure of product testing that subjects innocent living beings to insane cruelty. Several countries around the world, including ours, have campaigned against this torture and taken steps towards its elimination, but a majority of women who love their imported cosmetic brands still have no idea what they're really funding, and promoting.
Would you really want to wear on your face something that has created so much pain and suffering in the process of its creation, when you could very easily substitute it for a cruelty-free, non violent choice?
It is now proven that animal tests are an unreliable scientific method, often used as a quick and easy loophole to gain Drug Administration approval, and several non-cruel alternatives to safety testing exist- involving tests on real human tissue donated via plastic surgery. Why do we still need to torture animals?
Here is a PETA Verified and Curated List of Cosmetic Brands (All available in India) that you can switch to for making your vanity pouch cruelty free! There's many, many more, and at the end of this article lies a simple hack to use in making your beauty splurges free from the shadow of pain and cruelty.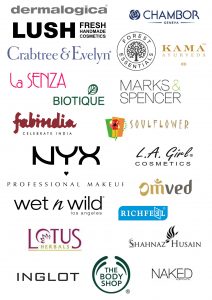 HACK: Here are some super easy go-to's to make accurate decisions about whether or not a brand is cruelty free
Is it Made in India? Then YES, this product would be cruelty free because animal testing is banned in our country (Besides, who does organic and ayurvedic products better than us? Think Biotique, Forest Essentials, Kama Ayurveda, the choices are endless!)
If not, is it sold in China? Brands like The Body Shop that pledge to be cruelty free do not sell in China because Chinese law mandates that all cosmetics sold there must be animal tested. A brand that sells in China is definitely not cruelty free.
Opt for brands that openly declare themselves cruelty free. If a brand doesn't specifically mention that it doesn't animal test, you can assume that it does. Look out for a certified Vegan logo or a PETA logo that declares that the product and their ingredients cruelty free. Or look out for a Leaping Bunny sign that signifies that the product is animal friendly
Check out this cool Beauty Without Bunnies search engine developed and powered by PETA – an online database that enlists more than 2500 global cosmetic companies so you can simply search the name of a brand and find out whether or not it is cruelty free. What better than PETA approved validation?
Yes, I feel sad to part with my long time favorite L'Oreal and Colorbar lip shades, which will basically empty my cosmetic drawer and create the need for a lot of new expenses, but here's some food for thought;
a utopic, non violent world cannot be created in a day or even in a few years, nor can any of us be expected to transform ourselves into a saintly way of life overnight. But, even the smallest of personal steps towards sustainable, ethically conscious and compassionate living can do wonders for your karma, your conscience, and the ripples you create as one unique being in this world of seven billion. Every life matters and makes a difference- mine, yours, and each one of those adorable furry friends- and with this blog post, I pledge to make my choices as a consumer and cosmetic lover as cruelty free as possible!
Sign the pledge to go for cruelty free beauty on PETA's official website here, and spread the word to help make an impact.
Keep watching this space for more on all things fashionable, sustainable and ethically conscious. Let's make our ideas of beauty more beautiful at heart!