As I constantly reach out to try fashion & beauty brands that veer towards sustainability, cruelty free and environmentally friendly production, I realized I had never tried the quintessentially all-Indian luxury ayurveda range from Forest Essentials as yet. After hearing good reviews (and absolute fangirling) from my friends about them, I went on to discover how their products are made with 100% natural ingredients (and they totally mean that, even the powders are starch based, not talc, I kid you not), based on the science of ayurveda, and made in India according to traditional recipes.
What I loved about Forest Essentials-
All their products never need slathering on – just a little bit at a time is enough to fulfill your experience, so they tend to last long.
How they are 100% Organic & Natural – it not only benefits you, but your earth, your farmers, your local communities, and your karma.
The packaging is so beautiful. Those gorgeous Mughal miniature inspired artworks on every bottle, how everything in the store and from the store smells so ethereal, and how even something as simple as a lip balm is a made a treat to buy, use and keep. I love how they sprinkle fresh flower petals in their in-store packaging – the little details make the whole experience tantalizing, and it's known for a fact that experiences give greater happiness than solely material goods ♡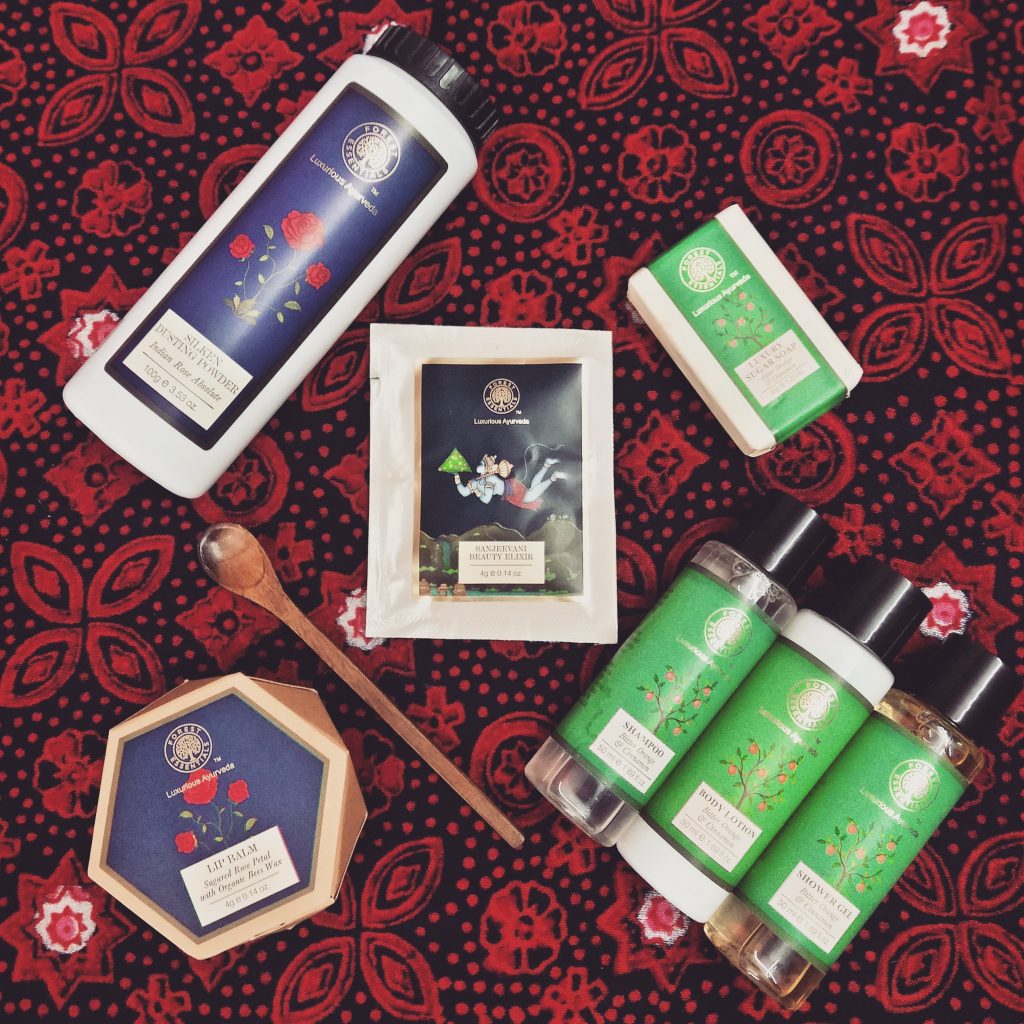 I tried a bunch of their products, and I'm pleasantly surprised at how amazing the quality is. Here's a low down on what each one was like:
1) Forest Essentials Bitter Orange and Cinnamon -Shower Gel, Shampoo and Sugar Soap
I love how long the fragrance lingers. Not just on your skin – even your bath, bedroom and the drawer you store them in are going to start emanating sweet, warm, citrusy deliciousness.
The shampoo is surprisingly effective in washing off oil from hair, a quality herbal products often lack in. It smells lovely, and makes tresses soft and shiny without needing to use a lot of quantity of product in hand at one time.
2) Forest Essentials Silken Dusting Powder in Indian Rose Absolute
The fragrance is as close to the real thing as can get. Plus, it's 100% natural and uses corn starch instead of talc – read below why it matters!
Talc isn't just a human hazard – it is known to cause cancer and breathing difficulties in prolonged usage over a lifetime.

Demand for talc for cosmetic uses is, according to many reports, being met by illegal mining in animal sanctuaries, and in particular the destruction of the Indian tiger's habitat. Large areas of forest have been depleted as trees make way for the mining operations. The mining leaves 90m-deep  twhere trees once stood.

– The Ecologist
 It is indeed silky, soft, lightweight and easily absorbs into skin, and the rose fragrance lingers decently long enough.
3) Forest Essentials Sugared Rose Petal & Organic Bees Wax Lip Balm
It is delicious. Of course, you don't intend to eat it up. But the flavor is just lovely, like a mini dessert on your lips.
Slightly glossy, moisturising and long lasting.
It comes in an adorable, vintage style mirror flap case with the cutest little wooden spatula to scoop some out. Talk about turning a lip balm into an experience!
Decent quantity, and a small swipe is good enough for one go.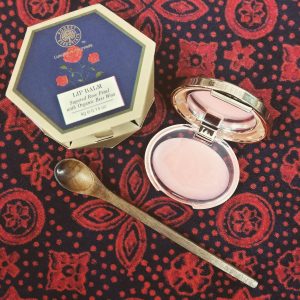 4) Forest Essentials Sanjeevani Beauty Elixir
Not only delightful because it was a freebie I got with my shopping, but I love how divinely medicinal it smells. It's a superlight formula, and just a very small swab of elixir had a consistency smooth enough to spread over and moisturise all of my face. I'd recommend it for normal to dry skin, because it is significantly hydrating.
So, here's a total yay for going and treating yourself a piece of luxurious Indian heritage, I absolutely intend to be a lifetime customer! Coming up soon, a little more on why you should switch from talc asap…