A Holistic, All-Natural Guide by Rhituparna Mitra
The tropical Indian summer is here, and it's the perfect time to adopt eco-conscious summer practices from knowledge that lies in our cultural plethora Ayurvedic and slow living regimes! Isn't it amusing how we sit inside our air conditioned rooms, ironically berating climate change, all the while knowing that our extensive carbon emission is the very cause of our discomfort?
Rhituparna Mitra is an eco-conscious maven and a passionate environmentalist who leads a beautiful community on Facebook – called "Our Earth and Us: Striking The Right Balance." That is where I discovered her simple yet thought provoking insights into natural, holistic and sustainable living – and when she accepted my invitation to share her wisdom with my readers, I was thrilled. I know you all will be, too.
Today, she shares some natural, sustainable and easy tips on staying cool in the summer. Spoiler alert, she spent the summer of 2018 without needing an air conditioner, and that is nothing short of brilliant! Read on to know how –
* * *
I have a rather intimate relationship with seasons and an increased appreciation for each one ever since I consciously undertook the path of sustainable and holistic living. Every season invokes specific emotions in me, as well as affects my productivity.
There's one season that I dread though. I don't have to tell you which one, do I?
Yes, it's the one we are currently going through. I have dreaded it's arrival every year of my life! Whether it was cycling back home from school on a summer afternoon, or studying for university exams in college, or shoving through a crowded train compartment on my way to work on a sultry summer morning, the thought itself makes me twitch!
Every day of spring in March, I suspect it might be the last day of this season. One fine morning, the cool breeze disappears, the sun shines down heavily, and the afternoons feel rough…
Instead of looking at how we can beat the heat inside out, we start complaining – how much hotter it is compared to last year! How everyone is falling sick due to weather change! The skin and hair feel stickier. A unique sense of lethargy or distaste creeps in. My path to leading a more holistic life prodded me into thinking about how we can change perceptions by changing who we are from inside rather than complaining about what's wrong with the outside.
For me, the summer of 2018 was the first summer without an AC after 13 years of having spent that time in air-conditioned offices. As you can guess, I was utmost apprehensive! But, it passed like a breeze!
Here's how:
Mangoes came to my rescue; they're my only solitary ray of hope in the Indian summer. I gorged on 20-25 kilos of mangoes through April- June without any weight gain (on the contrary, I lost a little weight). Add to the list cooling, water rich fruits like litchi, papaya and watermelons. EATING FRUITS is the biggest favour you can do for your body in any season, and even more so in summers. Fruits keep our body's environment alkaline and hydrated, which are the essential conditions of good health.
Ever since we began to lead a life based on the principles of Natural Hygiene, we consume raw foods as 50% of our daily diet (fruits and vegetables). Along with giving up tea, coffee, fried, processed, canned, frozen foods and wheat (gluten is reserved for cold weather), this has been a huge blessing for my family's life in the past 4 years. Believe it or not; we don't even feel thirsty as often as we used to, even when we step out in the scorching heat. One needs to practice it to believe it – and yes, I don't even crave for such foods anymore! The natural onset of coolness inside of me because of this diet change is positively addictive.
I also exercise my love for cottons! Breathable fabrics allow transpiration (efficient evaporation of sweat, which cools the body down) and the skin can do its wonderful job of adjusting the body's inner thermostat. We don't need chemical deodorants to get rid of body odour!
Don't hate your sweat! Welcome it instead. I recommend bathing with a few drops of essential oils as many times as possible in a day, especially right before going to sleep (your favourite fragrance may help you relax your nervous system, have a better sleep and feel less agitated about the weather). Khus-khus (vetiver) is a gem of a fragrance for this season! Get your sun quota by stepping out in the early hours of the morning – a great reason to sleep early and wake up as the sun rises.
We do not use any sunscreen, or moisturizer. Instead, we use lemon peel paste (steamed and ground) for a bath. Fruit peels also work as an excellent face wash. For children, you can use fresh turmeric and neem paste as a body cleanser.
We ditch the AC as much as possible – air conditioners pollute the environment, contribute significantly to global warming and negatively affects us by playing with our body's vital thermostat. We try not to turn it on for more than an hour per day during the peak season for heat in May (although, no AC is ideal). Putting up a vetiver curtain in our living room this year worked wonderfully for cooling the house down and we are ecstatic about it!
Last but not the least, plant more trees around you. The shade of a tree is the best natural coolant, that we seem to have forgotten.
Let's embrace the summers in our stride, and marvel at the SUNFLOWERS, PETUNIAS, BUTTERFLIES and MANGOES! There's a reason why summer exists in nature and mindfully living it shall bring joy and good health!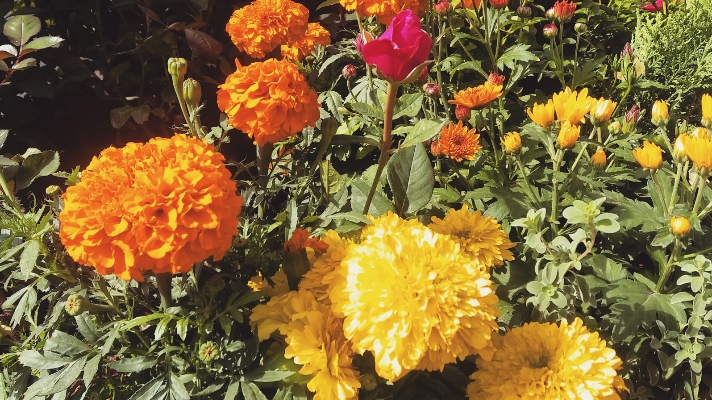 The author is an entrepreneur, mother and sustainability crusader – trying to raise her tots as consciously as possible, and handholding her online community in an endeavour to make holistic living easy for everyone."Our Earth and Us: Striking The Right Balance" is a conversational and informative space for both seasoned sustainability enthusiasts and conscious living newbies wanting to explore a mindful lifestyle.
This community is a great resource for valuable real-life insights into sustainable living – a safe space to discover the journey, the questions, the facts, the baby steps, the imperfect attempts and the positive experiences! I have been a member of this group for a few weeks now, and I love the authentic tidbits and practical resources I find here. Do you want to be part of this awesome community? To request for a membership, click here!