Everyone wants a piece of the whole gingham and checks hullaboo across runways, designers and department stores! Well, Indian Handlooms have been there and been doing that since a long time now, and what a cool, comfortable drape the gamcha check is!
Gamcha – a word often associated with towels – is a handloom textile woven in north eastern India. Thrown on the shoulder, wrapped around the head or waist, the cotton cloth with a mix of checks and stripes, mostly in red and white, it quintessentially works as a towel, a shield against the sun, even a bedsheet for most people.
Much like the lungi, the gamchha has been central to the lives of India's male working class. Of course, the elite class doesn't look twice at it because it's the 'poor man's cloth' after all.

– Jaya Jaitly, handloom expert and founder-president of the Dastkari Haat Samiti, an association of Indian craftspeople
Thanks to the efforts of textile revivalists like Jaya, the gamcha now has a chic update to an artful, contemporary saree and I love the light as a feather, fine and soft feel you can only find in handloom cotton
Within Bengal's weaving communities, gamchhas are made on handlooms by the women of weaver families, while the men work on more meticulous traditional Bengali saree weaves.
The gamcha saree started it's journey with the efforts of Jaya Jaitly, the aim of this project by Dastkaari Hath Samiti being creating a link between the urban buyer to the rural weaver (which would increase the weaver's income), and also popularise a refreshing style of saree, which needs to regain popularity before our obsession with western wear completely extinguishes our traditional sophistication.
From earning Rs.40-50 a day weaving gamchha cloth, the traditional weavers went on to make Rs.150 a day by weaving a saree.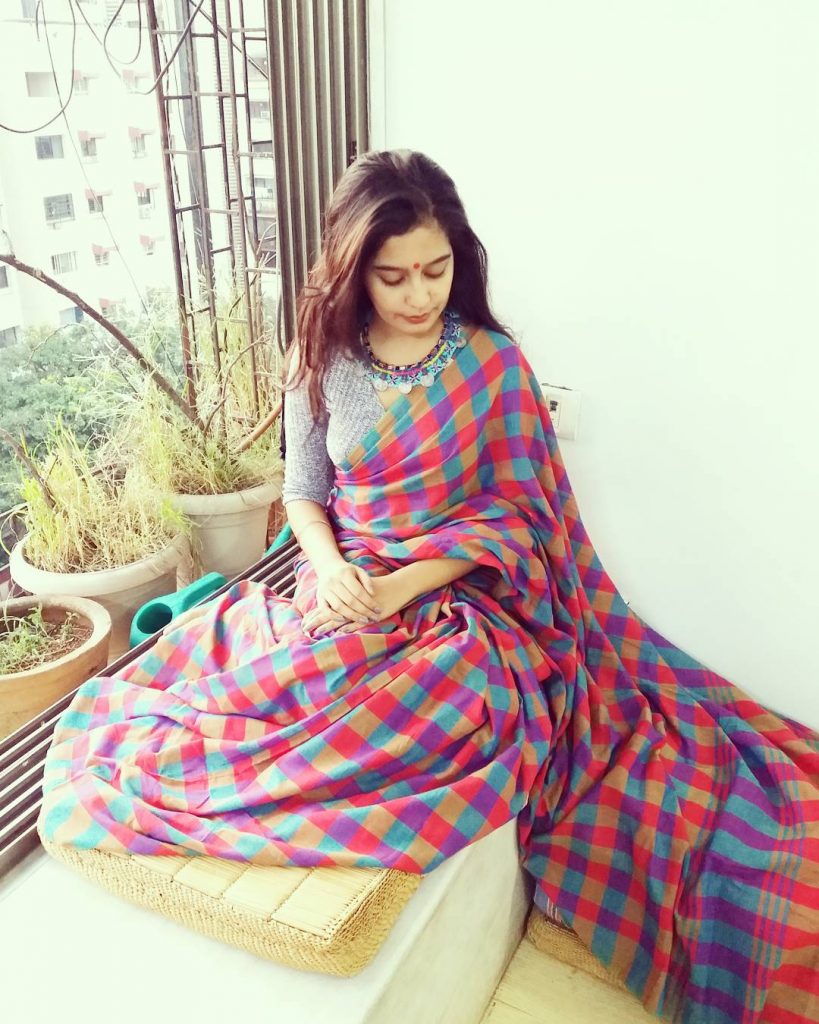 Styled with a wrap front, grey mélange crop top from Only, and a bohemian hand embellished bib necklace! This versatile piece works with almost every colour of blouse.
what I love about the gamcha saree 
This handloom cotton isn't like the stereotypical stiff sarees our headmistresses wore – Quite contrarily, it is cool, comfortable, soft and fine. It moulds to the shape of your body and has a sensually elegant fall and drape.
The checks and stripes and powder bright pastels give a chic, contemporary and smart look which looks great and takes a refreshing break from the typical indian saree motifs, designs and borders.
It's the perfect way to channel the gingham trend while making an ethical, conscious and fashionable choice that revives and revisits Indian heritage.
This humble weave is economical and affordable for all, ranging from prices as low as INR 800 which increase to mid-range depending on how complex the checks pattern is. That's absolutely wonderful, for something made with so much sweat, hard work, love and devotion – completely by hand!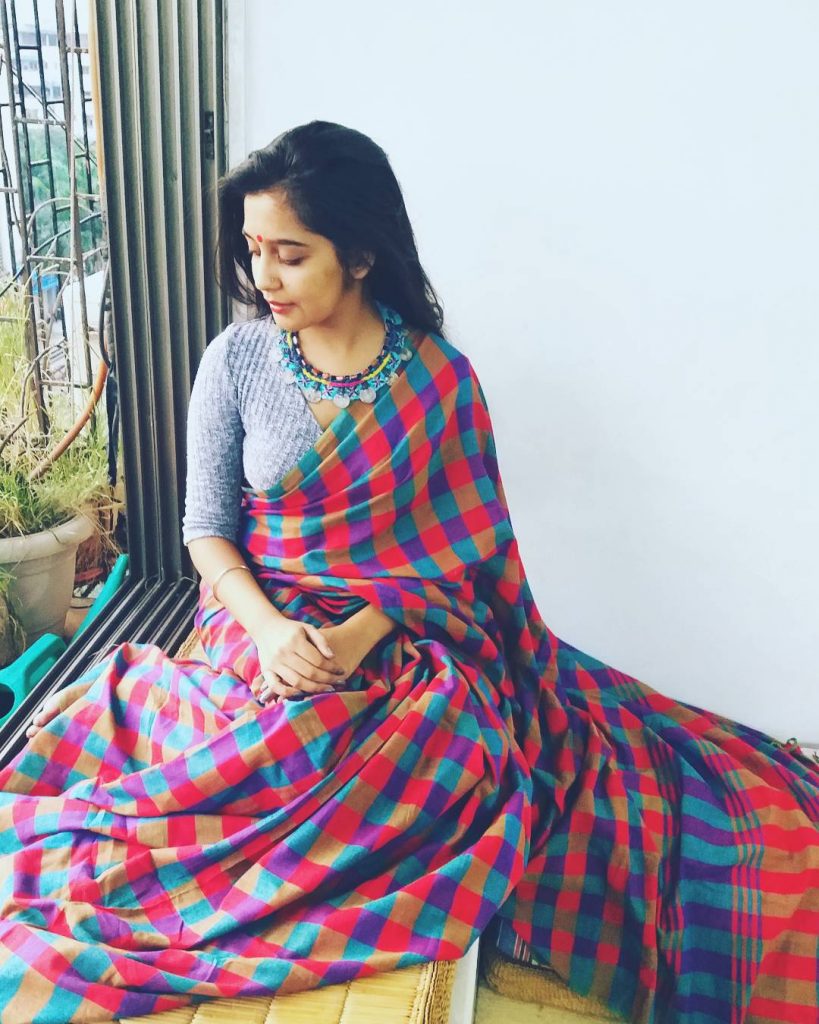 This saree was purchased from India Muse – an environmentally conscious, sustainable and chic handloom brand based out of Calcutta – at an amazingly affordable amount of INR 1100. I love their diverse range of gamchas and other Bengal Handlooms and the pretty, happy, summer colours.
Receiving the quaint, old school cloth wrapped parcel with a neatly folded saree inside was such a nice touch. Payment is online and they ship all over India!
Visit their Instagram feed @indiamuse to get on the gamcha trend, it's a must-have saree for every age, a classic investment that will pay off fashionably for many years to come.
To know the story of how the gamcha saree was born right at grassroot, read Jaya's words and experiences here