A drape from my mother's closet, this delicate white on black features lucknowi chikankari work – how beautiful a process to imagine, that these delicate motifs were worked on at the back of the sheer georgette to reveal the design on the front face of the fabric with absolute finesse. Here's a closer look at the detail and stitches used;
I'm going to be talking about two traditional chikan work stitch styles seen in this saree, so here goes…
Jali work: The jaalis or trellises give an effect of an open mesh or net created by carefully pushing warps and wefts apart by needle without cutting or drawing of thread. The act thus make neat regular holes or jaalis on the fabric. It is the kind of delicate, absolutely precise, time consuming process that if you were to step away or get up while doing it even for a bit, chances are you wouldn't have the same symmetry and thread tension again.
In picture – this saree has several lush buds filled in with jali work, what appears to be a running stitch to the untrained eye is actually a super intricate series of little 'X's pulling apart the warp and weft threads of the black fabric to create fine, equally sized, repetitive holes like a mesh.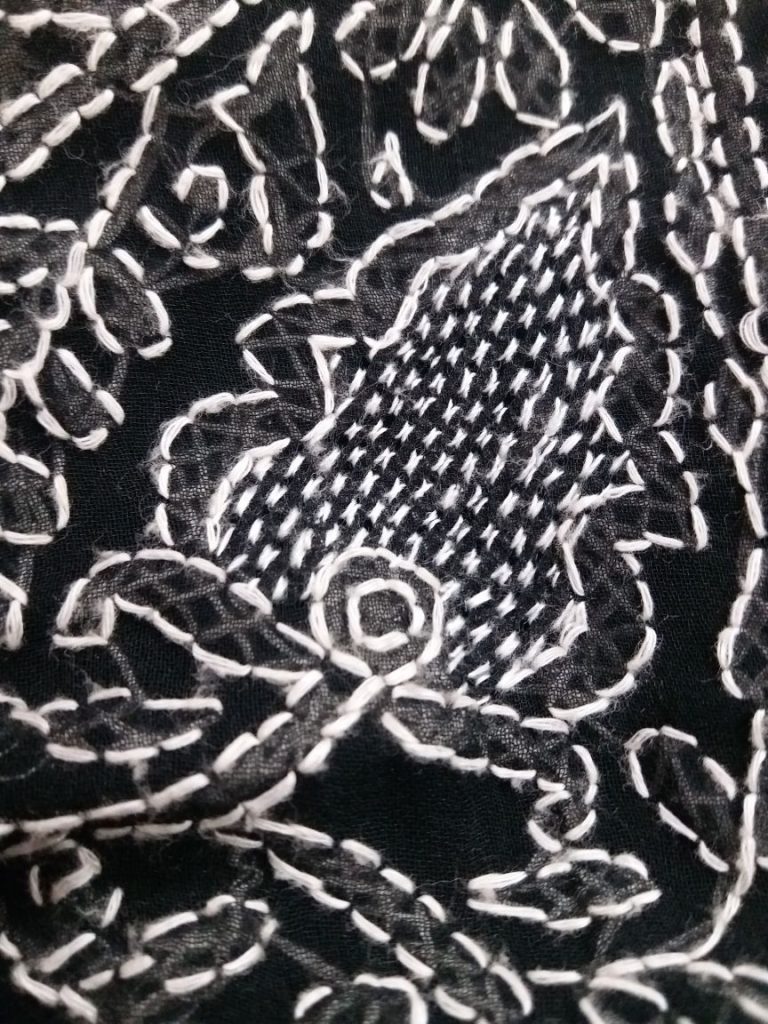 2. Bukhia: The omnipresent, quintessentially chikan stitch which gives this art the title of shadow work. Bukhia is very similar to a herringbone stitch done on the backside of the fabric, to reveal parallel rows of running stitches creating a pattern on the front side, and being a sheer fabric one can see the crosses on the underside when one views the right side of the fabric – this is what creates a shadow effect.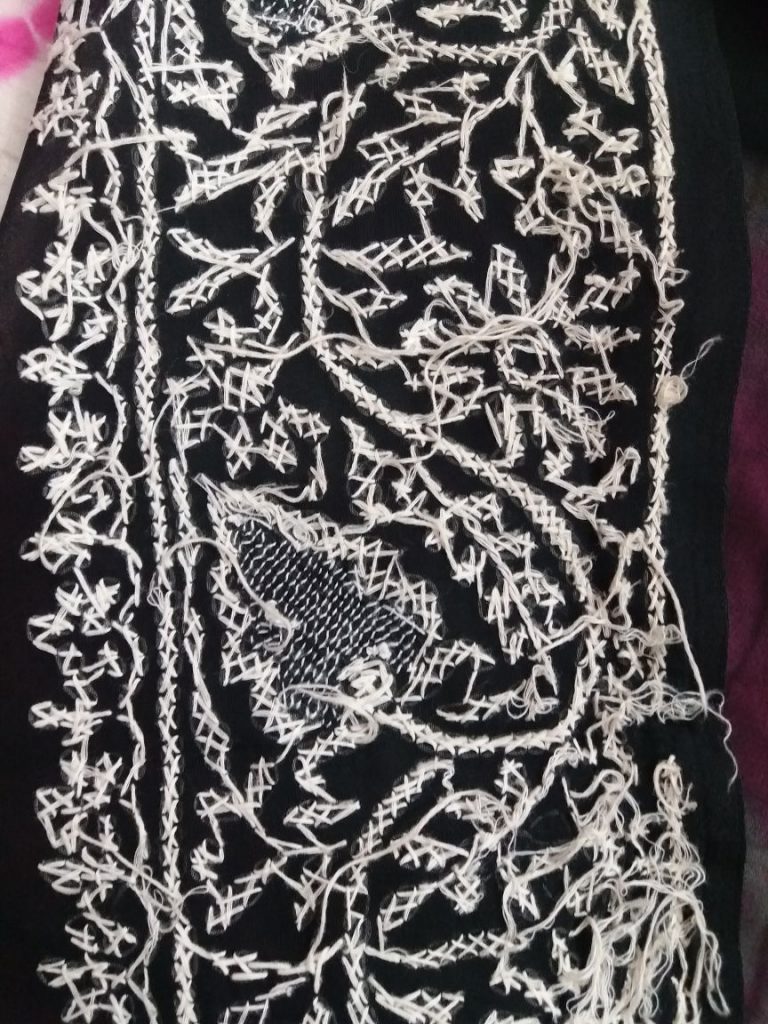 The work on this saree is primarily all Bukhia, interspersed with Jaali work in areas. Here's how the resplendent palla looks like; a series of vibrantly motif speckled squares within squares in varying widths, with a diamond rangoli-like formation at the very centre.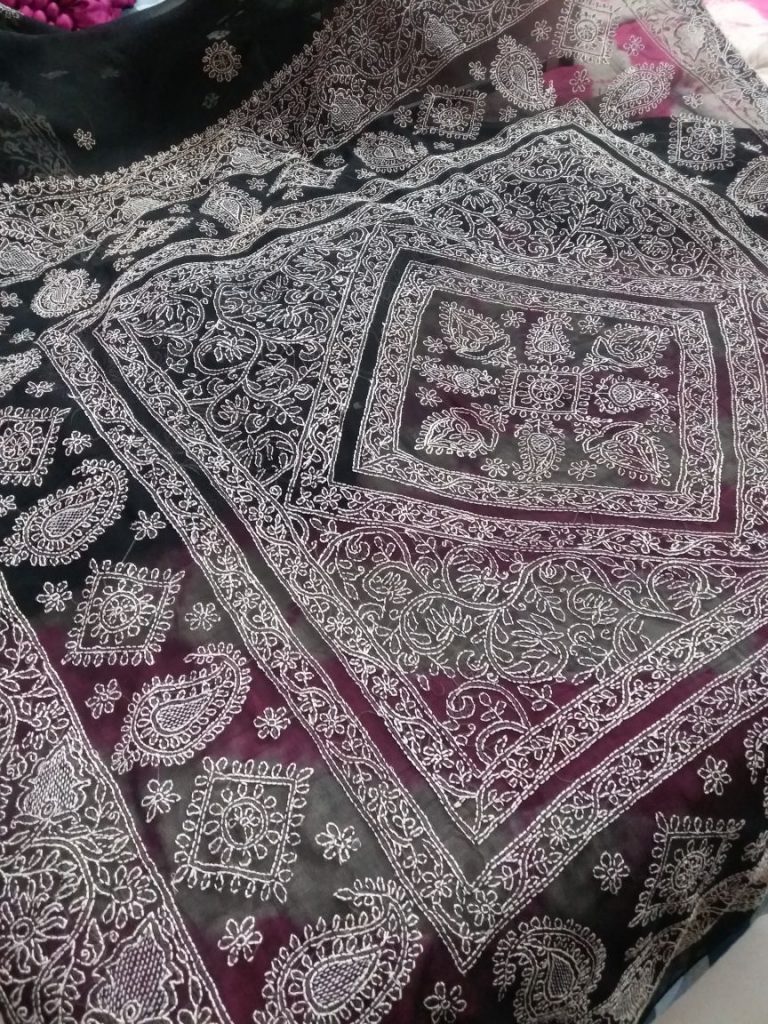 Now that we know the stitches that went into this intricate, highly detailed, large span area of work, how much more appreciable it is! I'm holding on to this saree for a lifetime.
I had the good fortune of spending a wintry evening at a craft cluster far into the Lucknowi countryside, and interacting with women karigars who wrap up their househould duties to work together from noon to sundown everyday, giving them a space to share, connect, pursue talent, as well as empower each other and themselves by pursuing a traditional skill that enables them to become a financial contributor in their domestic spheres – lifting their position, their voice, their say in matters that matter and their value as women in a patriarchal society. We saw these ladies work on garments from Fabindia, Lifestyle, Shoppers Stop and many more Indo-Ethnic brands, and their quick dexterity with these crazily intricate traditional techniques is astounding. They are surrounded by their little daughters who also pick up the skill from a budding age, and continue the tradition as they grow – keeping their heritage alive, and empowering their lives in the process. This, my darlings, is why we promote and sustain craft. A video on an artisan working on the bakhia stitch is coming up, in a bit! Stay tuned