We've all encountered a kantha – be it saree, dupatta, suit, cushion or blanket. But a little known fact that differentiate's this eastern Indian tradition from several other embroidery crafts is that there lies a profound functionality behind it, for it was in it's truest essence a craft tradition of the poor. Discarded textile scraps sewn together with a running stitch – the basic foundational block of needlework – to create something new. One of India's oldest embroidery traditions, the earliest known mention of the kantha technique is 500 years old –in the Chaitanya Charitamrita (a biography), where the author refers to a kantha sent to him by his mother. The traditional kantha dorokha (do -two, rokha- faced; a reversible quilt) was an inexpensive, upcycled thrift solution to keep poor families warm. Truly, it is a case of unintended art! Women stitched kantha works for their family, and Bangladeshi folklore says that old cloth keeps the family safe from harm – the older, the more reused, the better!
Sanaih kantha
Sanaih pantha Sanaih
parvata langhanam.
Slowly one stitches rags,
Slowly one traverses the path
And slowly one climbs to the top of the mountain.
– Traditional Bengali Sloka
Kantha is a style of running stitch embroidery endemic to (loosely) West Bengal and Bangladesh. It was never just an embroidery pastime for the women of yore, it was a way of life; and rural housewives played the most significant part in the evolution of Kantha embroidery. A kantha blanket was made specially for a newborn baby, a kantha prepared as shroud for the dead. It was customary for these women to use kantha to create simple necessities of life as well as for it's milestones. Old sarees and scrap textiles would be upcycled into handmade kantha quilts, blankets and throws. Kantha drapes would be worked upon slowly, heavily and intricately from the day of the birth of a daughter, to be gifted to her as part of her wedding trousseau. A special kantha embroidered dhurry or carpet would always be ready to spread on the floor when guests pay a visit (there was never a concept of chairs or sofas in rural India back then, keep in mind, so a carpet laid out for floor seating was a gesture of respect.) The intricacy of a kantha was a matter of (often competitive) pride for a mother, she'd strive to make sure her daughter's wedding kantha would be the talk of the town. Whether it was for creating, upcycling, recycling, decoration, rituals, religious offerings to an idol of God, or a garment for personal use – kantha embroidered textiles and the act of doing kantha embroidery was intricately woven into every dimension of this slow, circular, thrifty and eclectic home life. Back when everything one needed to live – basic or aesthetic – was handmade by themselves, not shopped.
#KanthaKatha is a series I'm going to be doing on the blog this month, which explores this craft tradition in numerous ways. I'll be musing on the communities that shaped it's design ideology, inspired projects that uplift these artisans, kantha's aesthetic and motif language, and most importantly – basking in the bliss of this handmade, eclectic craft with many different looks. If you're on Instagram, and possess a kantha you'd like to share about, do tag my handle @oorja.revivestyle and join this fun series by using the hashtag.
A wonderful further read and the source for the shloka, plus lot of things I learned – this article on
Hand & Cloth
.
I was once mentored by a beautiful woman –
Shabnam Ramaswamy
– who has done tremendous work in the area of uplifting, providing employment to and funding education for women artisans of Bangladesh. A lot of the tidbits I shared in this article are from the conversations we have had about kantha. I will write another post about her work and her story, really soon!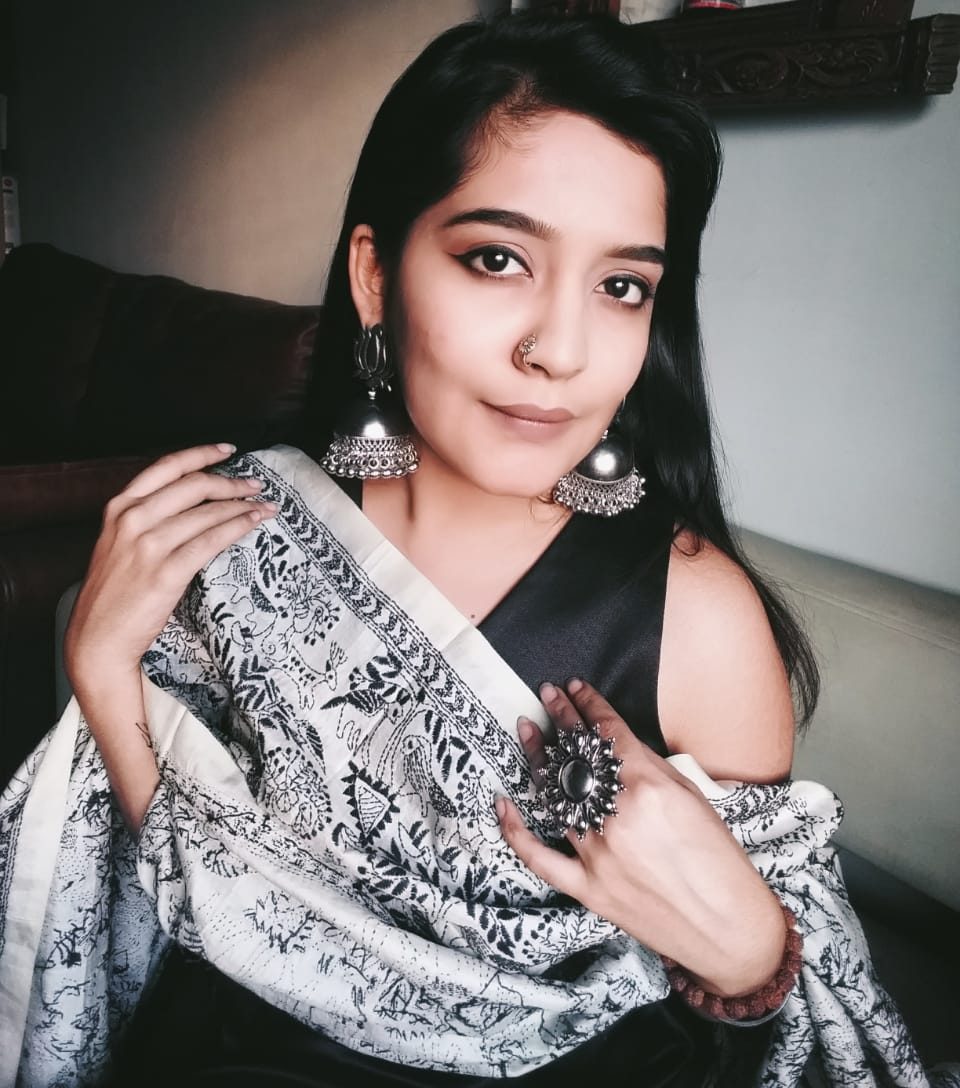 My outfit for today, a wildlife scene kantha on a handloom silk stole – belonging to my mother. Paired with statement silver pieces and a satin dress that's doubling as kurta. Are you feeling the mumbai winter already?
Do share this article if you enjoyed the little discourse on indian textile history!