We've all heard of recycling and upcycling, recreating new garments with the old. Following the same principle, there exists an eclectic, beautiful textured handloom textile that is literally a saree recreated by scraps of older sarees! The process is fascinating yet simple…
The warp is with new yarn and the weft is with strips of thin cloth obtained by tearing old sarees length wise. For non textile experts, this simply means that long, thin strips of cloth cut from old sarees are interwoven with thread during the saree making process to create beautiful 3D stripes within the new saree!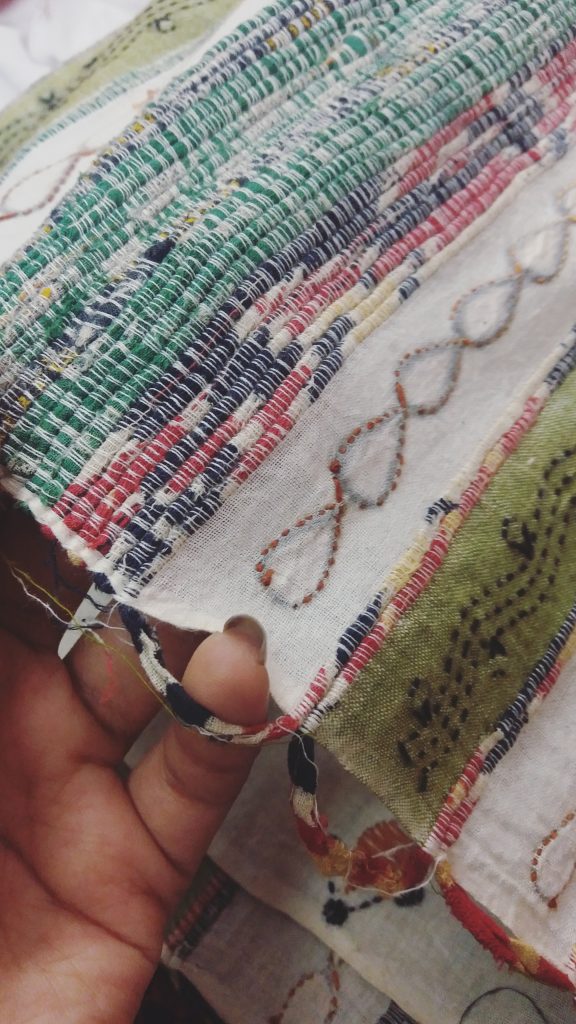 The tradition of khesh weaving exists in Birbhum, West Bengal in the last many years, and even a market for old sarees functions in the regiom of Amodpur, where old sarees can be bought in bulk by weavers. A beautiful example of consumers returning goods back in a kind of circular economy wherein new is created with the old!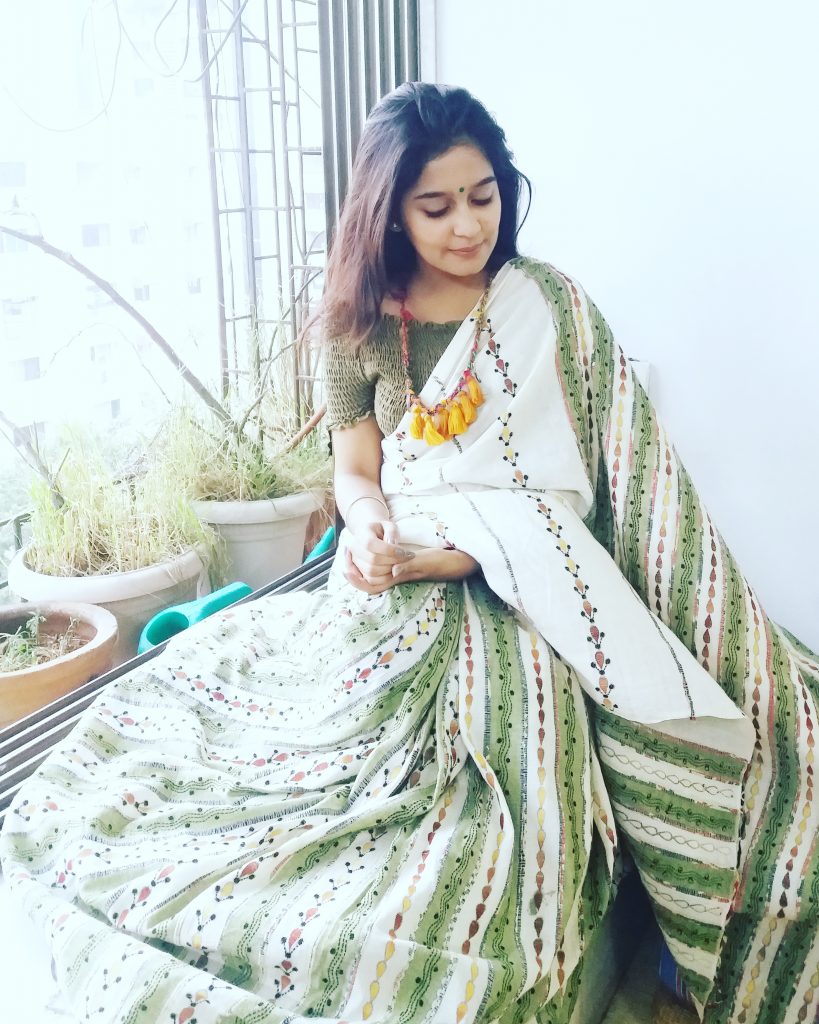 my cherished kantha work khesh saree, styled with a tassel neckpiece – own creation – made of braided recycled saree yarns, the perfect accompanient for this innovative weave, all in the spirit of recycling and reinvention!
The weavers also have suppliers who gather old sarees from villages for reusing, along with households that turn in their old sarees which to reconstruct into bedcovers for a fee – about six sarees for a single bedcover and ten for a double.
Once the old sarees are torn into thin strips, the weaver hangs these strips beside him for easy access and weaves with whichever he picks up randomly. And therein lies the beauty of the khesh fabric, the design person or the weaver can only specify the overall colour of the body (the color of the warp). The colour gradation seen on these khesh stripes (the weft) is completely a matter of chance. It's always a surprise how it turns out to be, and one can appreciate how  colours in the old sarees have blended into the new fabric. (Source: Jaypore)
I think it's beautiful how a long existing, traditional handloom textile has incorporated the principles of zero waste production, recycling, upcycling and sustainability in the textile industry – so many years ahead of it's time, while the rest of the world seems to be just waking up to these concepts!
India has SO much to be proud of in terms of artisanal slow fashion – an intelligent, conscious, ethical practice of life was embedded in our ancestors' lifestyles since ages ago – why are we cultivating a generation that apes western feeds, glorifies fast fashion and indulges in mindless consumerism, all the while being ignorant to the long spanning cultural foundation of compassionate living? Is it because many of us are victim to ageist conditioning that says "that's for aunties" ?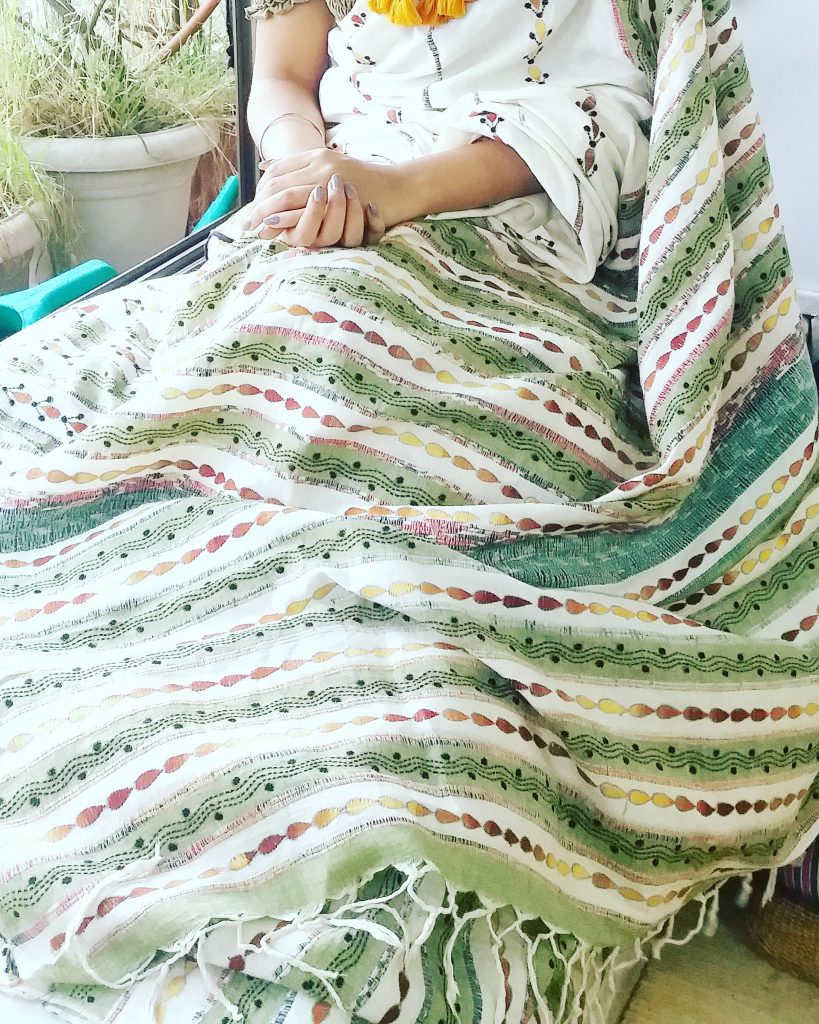 This saree from Handmade Exquisites By Rahi, a jewellery and textile label based in Calcutta
It features beautiful, precise and intricate kantha work – a traditional embroidery craft which finds its home in West Bengal – and I love how the satin stitch teardrops feature an ombré effect thread.
It's lightweight, organic, soft to touch and a flattering drape, with an intelligent placement of olive stripes to create a half-and-half effect.
I purchased this for INR 1850, which is an amazing deal for such intricate hand work.
The stripers, the embroidery, the pastel palette all together create stunning visual drama and a piece which is completely handwoven and hand embroidered by traditional methods is of immense cultural and monetary value, a timeless investment for every Indian woman's wardrobe.
Head to @handmade_exquisites_by_rahi on Instagram for a breathtaking and diverse range of sarees, dupattas, handmade jewellery, and absolutely unique, curated pieces at affordable rates which one can cherish for a lifetime and pass on to the generations to come – it would be at an even higher value and preciousness by then!
I generally work with Kantha of Shantiniketan, land of Tagore. There are various designs of Kantha available in the market. Sujni Kantha is the most intricate embroidery. People often compare the prices of Kantha. If one minutely see the work, they will notice, the cheaper versions are loosely done. For example in an embroidered rose, the work should be compact and there shouldn't be any gap in between the embroidered lines, the base material also makes a huge difference.

-Aindrila Ghosh, from Handmade Exquisites by Rahi
To read all about the technicalities, innovations and the invention of this beautiful textile, head here
Let's keep recycling and renewing for a better future ♡