In this post: musing on the history of costume jewellery in fashion, a scattering of Coco Chanel's pearls of style wisdom, several styling tips for pairing Indian jewellery with western ensembles, and a curated assortment of six gorgeous, affordable art jewellery recommendations from Tarinika for tasteful and chic occasion wear!
Like much else in our wardrobes to this date, credit for the art of costume jewellery goes back to none other than the eternally chic Mademoiselle Coco Chanel. In a classic Gabrielle move, she decreed that wearing her creations of faux adornments – simply because she was the tastemaker that came up with them – was more timeless, beautiful and elegant than the 'vulgar' (in her words) display of exorbitant, aristocratic real gemstones that cost many fortunes. Women, as they always did, worshipped the Chanel gospel and were swayed to carry out her bidding. And la! Wearing chic costume jewellery became as covetable, maybe even more, than the real deal.
Using a mix of pearls, gems, beads, glass from all the gifts of jewels her string of lovers gave her, Chanel forayed into creating these art pieces. Lore says that the Duke of Westminster – among many others in the pool of her aristocratic lovers – presented her with an endless stream of priceless jewels; Indian rubies, sapphires, emeralds, all the works. One time, when given yet another breathtaking gift of bijoux, she took apart the piece of jewellery before his very eyes and proceeded to use it to make her own creations by mixing them with faux stones and poured glass beads!
Thank god for Chanel's fearless, experimental and most importantly practical take on feminine elegance, for the advent of costume jewellery made the joy of adornment so much more accessible to women across the world and continues to do so till date! In the Chanel-esque spirit of enjoying tasteful, affordably precious and contemporary bijoux that can timelessly, elegantly pair with both Indian & western outfit moods, I'm curating six stunning pieces of art jewellery in this post. Finished in a premium quality setting with cubic zirconia, gold/rhodium/rose gold/white gold platings and intricate craftsmanship, they make for wise investments to add elegant, refined and alluring adornments to your jewellery chest without having to invest a fortune that precious gems call for. All these pieces have been curated from Tarinika – the lovely shop I posted about on my Instagram earlier this month – and they make for stylish, versatile party wear pieces that can be styled from sarees to little black dresses.
(Of course, we're currently living in a time when parties and dressing up in sparkling gems is a faraway dream of the future, but treating yourself to some pretty frosting to wear when better days arrive – and arrive they will, truly – is an optimistic indulgence that I 100% support!)
Ropes of pearl beads: an elegant essential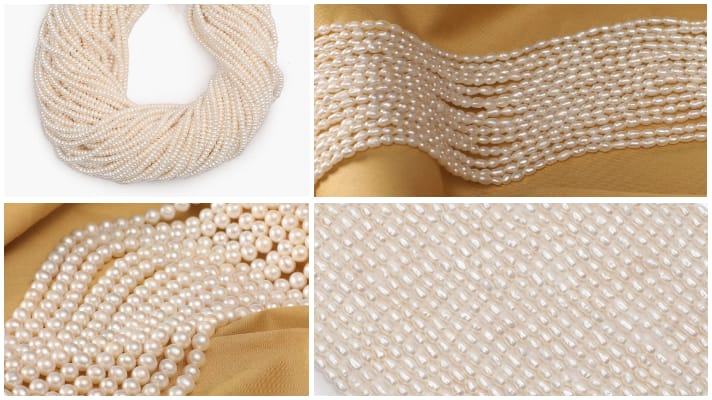 You can never go wrong with ropes of pearl beads (and we're also in the 20s again!). Layer and stack different shapes and sizes of freshwater pearl strands available on their storefront, these can be customised and ordered as per taste. I love to use these as multi-purpose strands, which can be layered on the neck as a single long rope or tied around the wrist as a bracelet to stack up with a timepiece. I'm going to quote Mme Chanel once again, for she put it simply and succinctly – "a woman needs ropes and ropes of pearls." The elegance of styling pearls is a rollercoaster that only goes up straight to classy land. I love layering and playing with pearl beads in both minimalist and maximalist ways, as seen in these snippets below.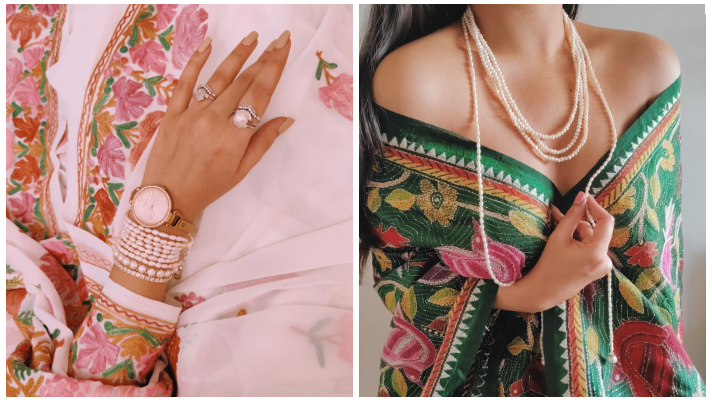 Click here to shop these customisable pearl beads to build your pearl stack.
2. Luna Earrings: Dainty, pretty moon vibes in diamantes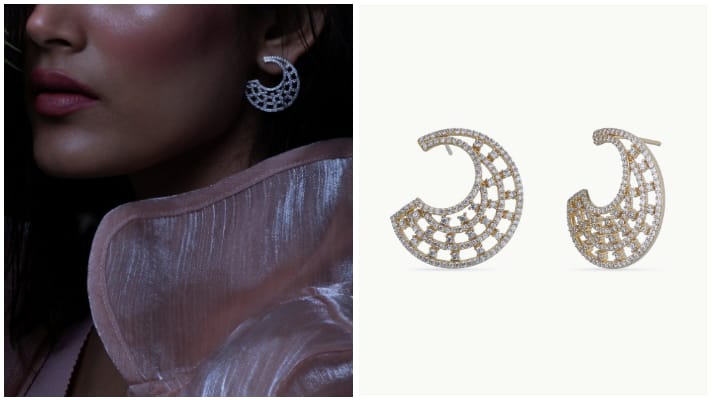 My selenophile heart couldn't not be enchanted by the Luna earrings (in ancient Roman mythology, Luna is the divine female embodiment of the moon). I love a design that can work as Indian earrings to pair with traditional wear and sarees, but at the same time also lend a romantic date night charm to silky shirts and dresses for a western wear ensemble. The size of these make it subtle, understated but not too much so to be lost to sight. A sparkly touch, a quiet statement. I'd suggest wearing them with a bare neck, and only pretty rings or a single bracelet/watch of similar diamanté aesthetic on your hands.
Click here to check them out on the storefront.
3. Julia Nakshatra CZ Bangles:  a contemporary bangles set for frosted wrist candy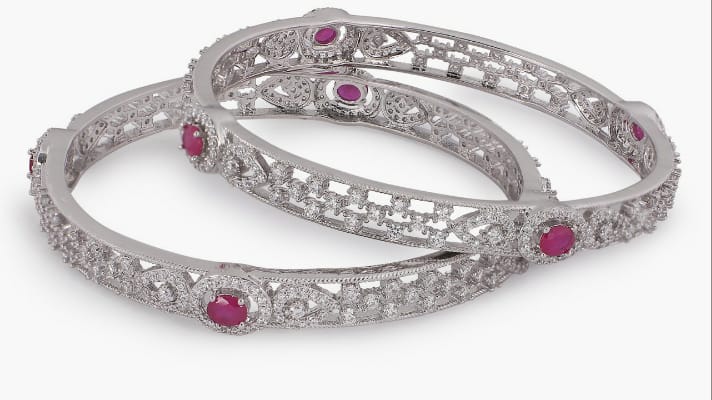 A lot of people hesitate to do this, but it's actually so easy to shop a bangles set online once you know your size (just Google the standard bangle sizing chart, you will find plenty of images to help you out in a matter of minutes). These sparkly, gemstone studded cubic zirconia beauties are another example of a versatile investment to pair with both Indian & western ensembles. I stack them together for traditional wear, and wear one bangle as a single cuff by itself when pairing with a western gown. I've also tried wearing one bangle on each wrist with a cocktail dress if I want to be extra dressy, it works beautifully!
Click here to view the colour variants available on the shop.
4. Jayna Nakshatra Choker Set: something sparkly, minimalist & queenly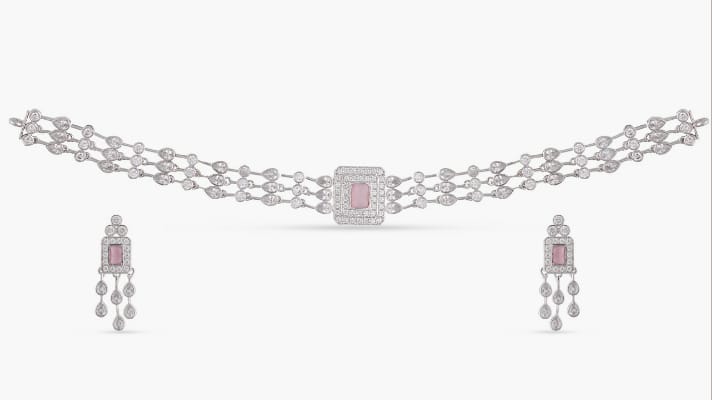 A choker necklace set is the perfect elegance upgrade to any ensemble, Indian, fusion or western. It's foolproof, and timelessly classic. In terms of versatility over time, I like how investing in a choker set enables one to either wear only the earrings or the necklace at certain times, and both at once for fullest glamour potential on special occasions. This one has a very dainty, delicate contemporary setting in the shape of it's stone drops, and the slightest hint of colour! My personal favourite is the pink, because it's so dreamy, subtle and feminine and has all the Persephone vibes.
Click here to shop this set and check out it's color options.
5. Myia Nakshatra Choker Set: for channelling all the Daphne Bridgerton aristocracy vibes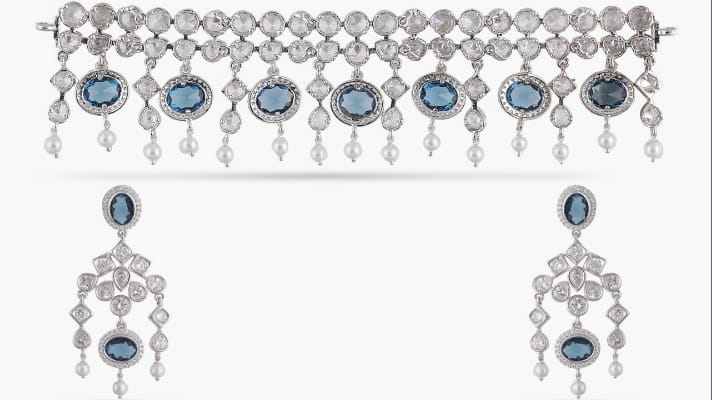 There's something so sensual, so classically gorgeous about a choker necklace set that drips down your neck in gemstones, glittering crystals catching light upon the rich canvas of bare skin. Whether you're wearing the earrings or necklace individually or together, everything in this is an elegant statement piece in itself. The most timeless, versatile pick would be to go for white stones, for it would match any colour of outfit you pair it with, but I also especially loved the blue among all the available colour options. I'd pair these beautiful bijoux with a monochrome, subtle outfit that lets the gems shine.
Click here to shop this set and check out it's color options.
6. Ivane Nakshatra Earrings: dripping in lush and sparkle among tresses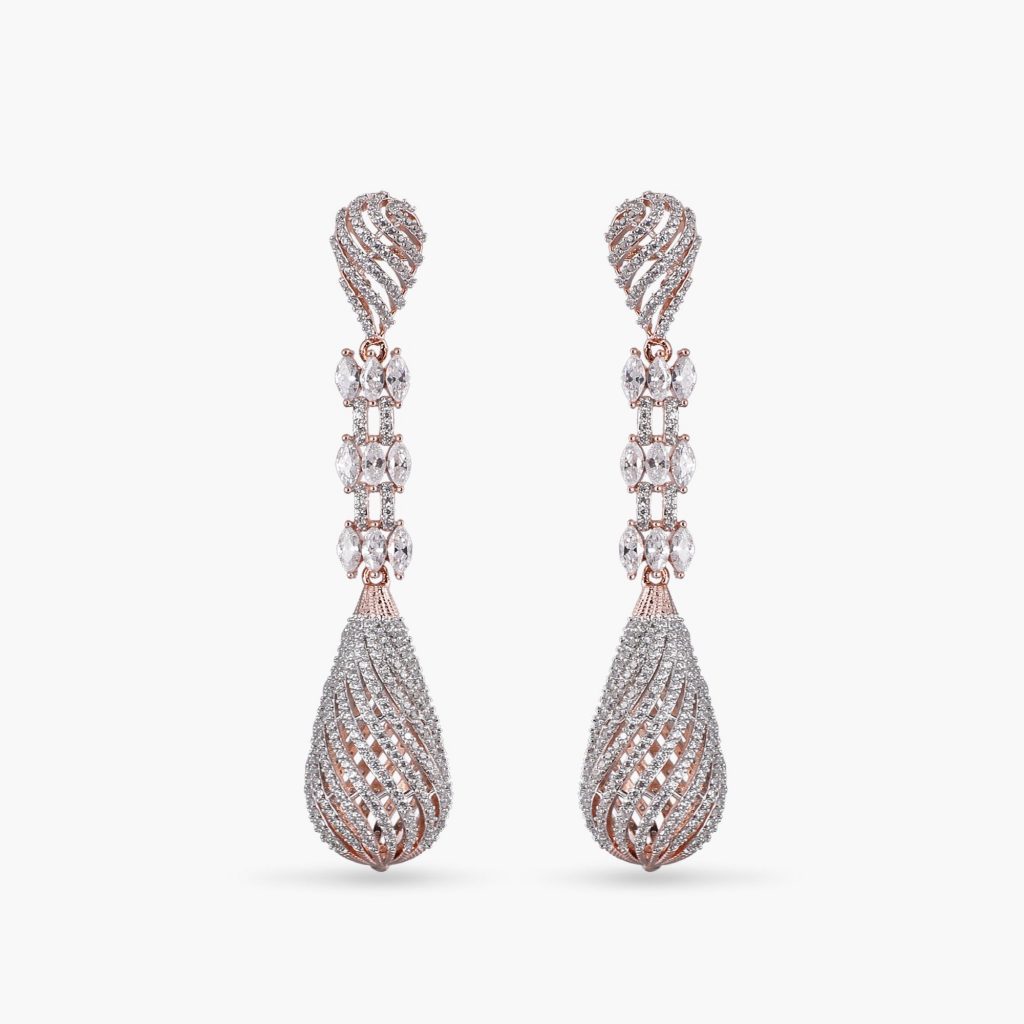 In continuity to the 'dripping' gemstones aesthetic I so love, my last recommendation is this beautiful pair set in rose gold (there's also an option for gold). Another example of Indian earrings that also double up as a western adornment. I love how the teardrop formation, encrusted with the tiniest little cubic zirconia gems, makes it a piece that's visually 'heavy' enough to lift an entire ensemble, but can also look minimalist and elegant when worn all by itself. The make is very French, making it a lovely pair for a romantic chiffon saree or a silky slip dress.
Click here to shop and view it's colour options.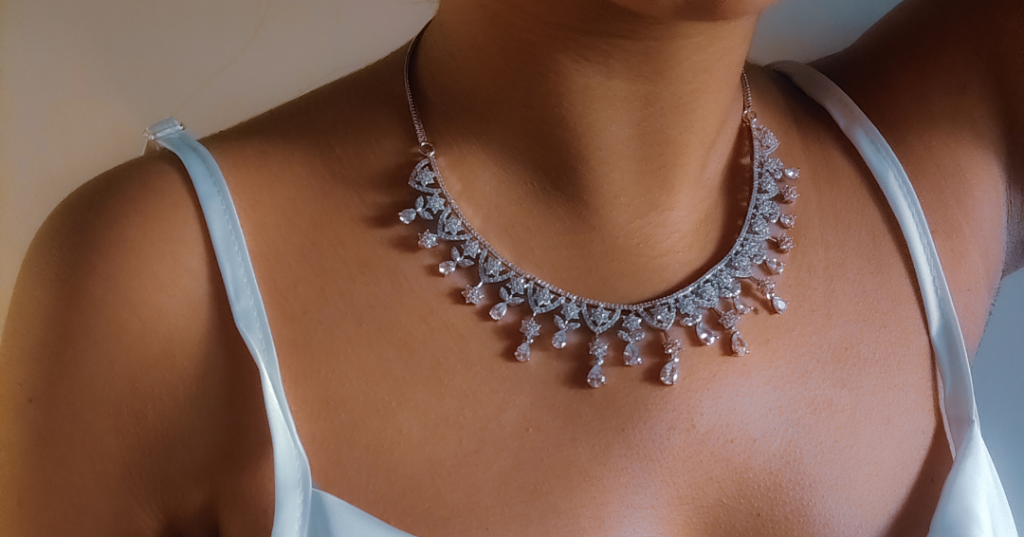 The set that I got for myself, and am wearing in my posts, is called the Ayan Nakshatra Set. I fell in love with the beautiful florals on this one. I've styled it with both a saree, one day when I was in a very maharani mood, and western ensembles!
Disclaimer: This is not a commission-based article, the pieces are solely personal picks coming from my own taste to create curated recommendations for people in my audience on Revive.Style that like my jewellery styling aesthetic! All proceeds from any sales that may be made from this post will go to the brand only. Their website is huge, with an overwhelming array of gorgeous pieces, and I hope you enjoyed what I picked out from there. Whether they make it to your Wishlist for now or successfully get checked out from your cart, do share and tag me if you're crushing on any baubles you were led to from this article! I always love to hear when my curatorial efforts help my readers find joy in discovering and acquiring beautiful objets d'art.