In this article: working around and preventing pandemic induced emotional impulse-shopping, aesthetic fashion therapy ideas to soothe lockdown frustration, pretty stay-at-home outfit inspo, India-based thrift store recommendations, informative snippets on Indian textile and traditional costume, the importance of moments of playful escapism for adults in lockdown, sustainable restyling, mindful consumerism and feel-good fashion.
It looks like the only outings for us – if very essential and unavailable via online means – will be grocery runs for the next few weeks. I did a wardrobe exercise today to feel good and have something, anything to look forward to during this endless loop of uncertain, gloomy days. I put together pretty outfits from my wardrobe with chill-at-home aesthetics to wear over the next many days. The introvert inside me is happy to stay in voluntarily, not gonna lie. The romantic, the epicureanist, the gossiper and the bare-feet-on-grass-loving earth fairy is not, but that's a story for another day!
Why was this dress-up game so therapeutic that I'm writing a Revive.Style web publication about it? Because my inner shopaholic demon often itches to go online and buy some block printed PJs and baubles; a seemingly 'well-deserved' indulgence in the gloomy face of another lockdown and isolation from the people I love spending time with. Emotional, impulsive shopping is never sustainable, and so I set forth to channel this energy into something more positive – rummaging through my wardrobe and styling cute sets of home clothing to feel pretty in while I sit around being existential and angsty in this second round of a summer lockdown. It definitely cured me of my impulse to indulge a sizeable moneybag in new clothes, although you can't stop me from spending it on yummy vegetables to cook and wine to forget recipes with instead. Shopping your closet is the most eco-friendly move! This post may also, possibly, inspire it's reader into sustainable and creative little self-indulgence for their stay-at-home life too.
Here are some 'stay-at-home' aesthetics from my wardrobe, and the cute little thrift stores, sources, craft, textile, sustainability and fashion stories behind them all. Everything is restyled, well-loved, handcrafted, handed down, thrifted or artisanal in one way or another. Scroll on for inspiration to indulge your inner artist, and a read on why dressing up – as superficial an activity as one may deem it – can actually be such a salve for our mental health sometimes.
Thrifted | For candlelit nights, Merlot, soft piano, books and conversations with the moon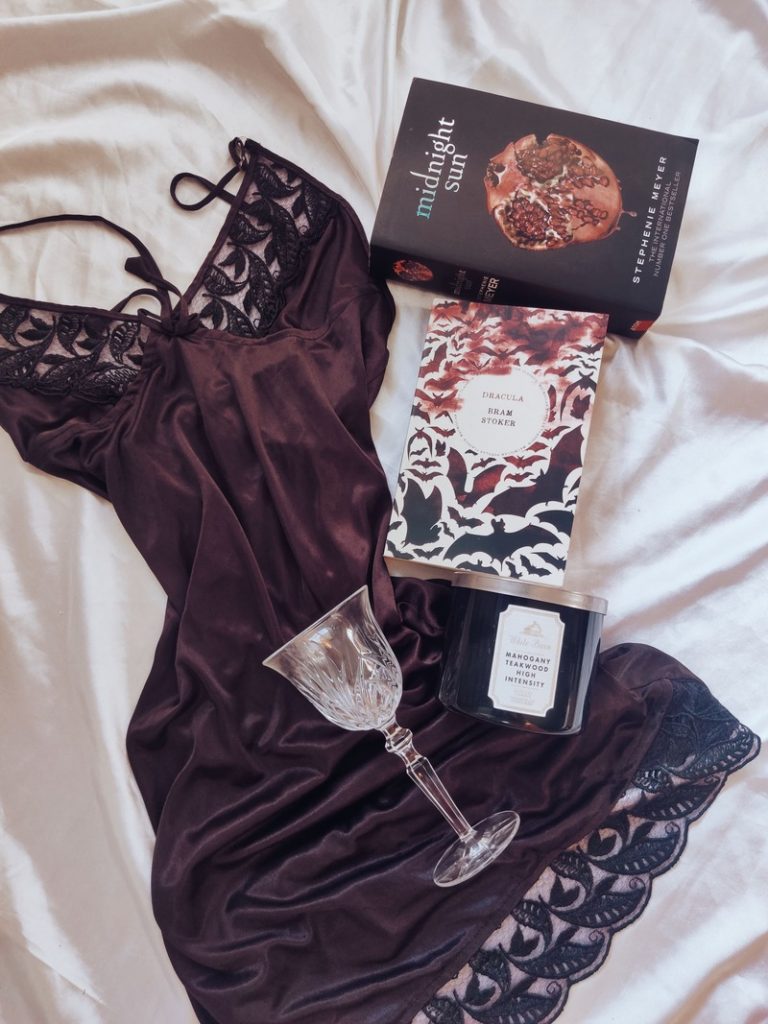 We all have – and deserve, and need – nights by ourselves when you just want to feel all pretty, sexy and luxe in your me-time, and to have thrifted a satin black slip for this mood delights my sustainable fashion heart. The surge in thrift pages on Instagram that sell absolutely beautiful lingerie pieces is phenomenal right now, I can't remember the last time I bought lingerie from retail because I'm spoilt with pretty, affordable and aesthetic choices from these vintage and thrift sellers. I mention two trustworthy thrift shops in this article that wash, sanitise, and beautifully perfume thrifted lingerie in mint condition for their customers, I've bought from both of these sources and the products are always stellar. This black slip is from a thrift page called @vintage.laundryy on Instagram. It came with lovely packaging, a most adorable personalised greeting card, and a fragrant scent! Riya Rokade, the founder and the sweetest entrepreneur, curates a beautiful and eclectic mix of clothing for her thrift store and supporting this boss-girl small business gives me joy.
2. Handprinted Indigo, Well-Preserved Fast Fashion | The blues are often misunderstood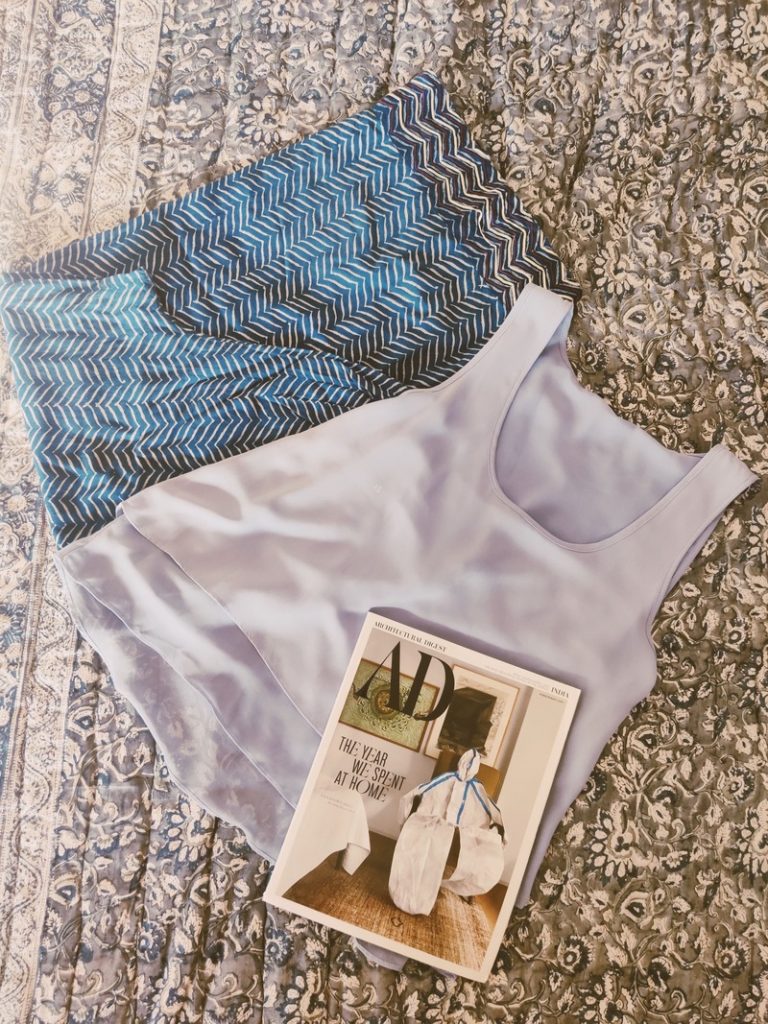 I can never associate it with sadness, beautiful blues make me think of the ocean, Greek islands, bellflowers, hydrangeas, Victorian cottagecore tea sets, the cute nurseries of little baby boys and all things cozy! The richness of Indian handcrafted Indigo-dyed cottons also evoke so many pleasing memories, they make me think of craft research visits to Rajasthan; the dyeing vats and the block printing, the summer palaces, the cool comfort of wearing handprinted indigo textiles and wandering about on pristine white marble floors. The top is a Forever21 that I bought during my 18-y-o Forever21 phase, when I knew nothing of the evils of fast fashion, and buying from brands like these felt like the most grown up and chic thing to do. I think I've done well in keeping it preserved for seven years! The pants are Fabindia, accented with silver Gota, and this serene pairing is perfect to be laying about in dappled sunlight with my favourite magazine. Unhurried and slow, exactly what the lockdown is teaching us to be.
3. Handloom Billows, Handcrafted Gota | An aesthetic experiment you should try someday, just for fun!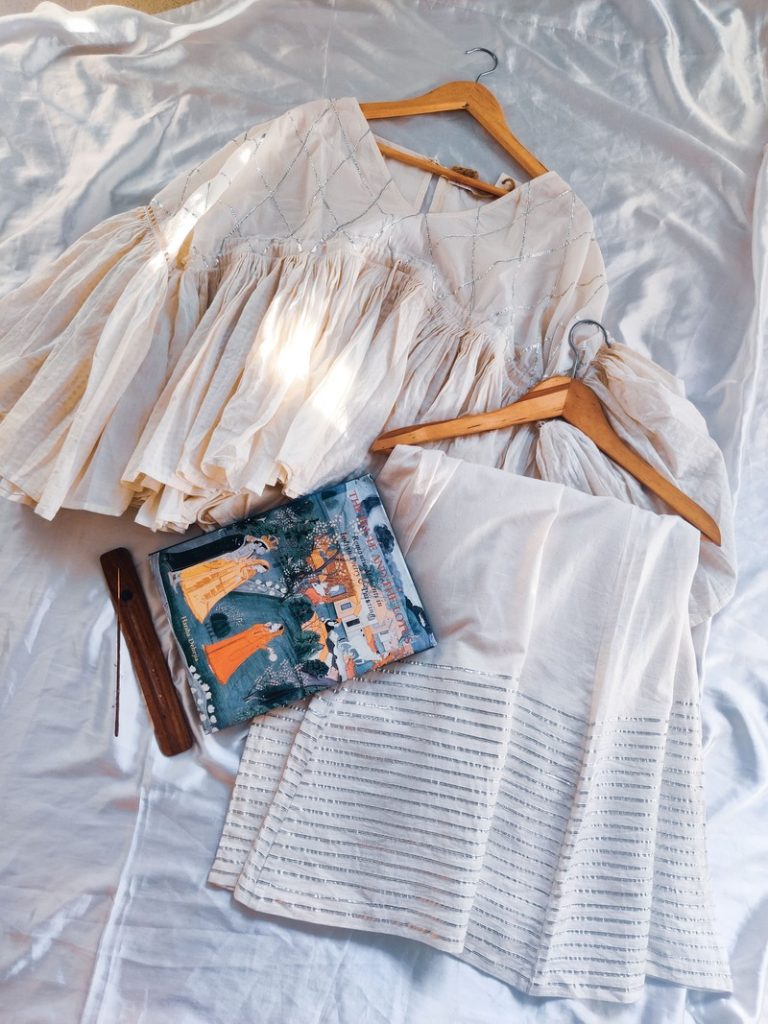 Yes, this is very extra. I certainly have that one day every once in a while – in this pandemic – wherein I will lounge about at home like a maharani and live out my romanticised, old world fantasies while tuning out my mother asking me "Are you really going to wear this at home?" every thirty minutes. I highly, highly recommend giving this a try! On Holi this year, I was chilling out with my parents in a beautiful handwoven, gota-embellished suit (my IG post in that one if you want to see it) because we were in a festive mood. I was reading my favourite book on Indian art and poetry on the balcony –'The Flute and the Lotus: Romantic Moments in Indian Poetry and Painting' by Harsha Dehejjia. The golden hour sunlight, dappled with shadows of rustling palms danced across my page and glinted off the silver Gota on my garb. The sheer experience of it all – visual, sensual, aesthetic – was magical. It brought me deeply into the present moment, because there was so much to be in awe of, in the words I read as well as in those moments when you look away from the page and just absorb the act of being here and now, in a beautiful setting, with a book in your lap. Being dressed in elegant, comfortable and 'special' traditional Indian finery while reading about art and beauty in this very Indian tradition, it was something I had to experience to believe. I think that for so many of us creative souls, hidden artists and aesthetes who are sensitive to and easily moved by beauty, the act of dressing up during a time when there's nowhere and nobody to dress up for but yourself is not by any measure ridiculous; it is a most sacred indulgence of the creative being inside our self.
Go on, be princessy, or be any mood you'd like to be! Dress like a French woman would and watch Midnight in Paris, dress in Indianwear that makes you feel pretty and watch/read something to match, put on your favourite red dress and make that recipe while listening to a Spanish playlist. We don't let ourselves 'play' enough as adults. Sometimes dressing up for and indulging in your fantasies, and creating a whole 'thing' out of your mundane, everyday things by romanticising them is an escape from the gloomy, crabby, inner censor that chatters away in our minds every moment of every day. In a lockdown wherein staying put at home is essential for our very lives – and the lives of others – this kind of escapist play comes in to alleviate the frustration of being confined to the same quarters and same people every single day. It can inspire, rejuvenate and spark joy! It's often so that what we find the silliest, is what we may actually need the most.
4. Hand-Embroidered Chikankari | Clouds, daintiness and traditional costumes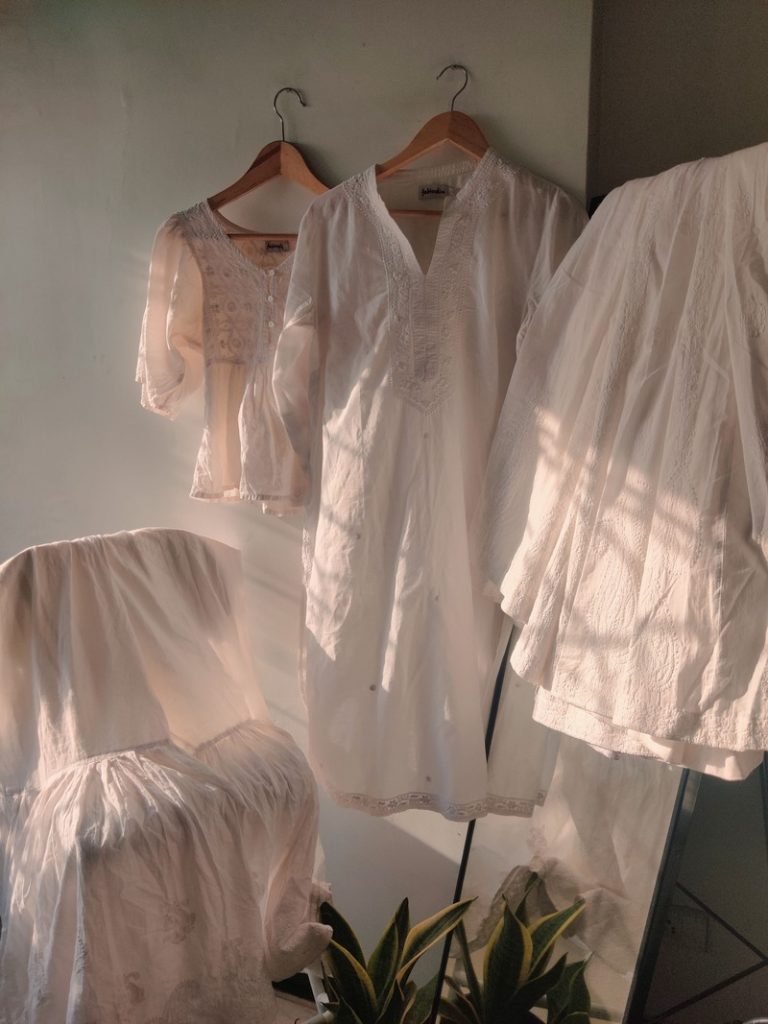 What could be more quintessentially Indian summer than white on white chikankari? The kediyu style top and the kurta are both hand-me-downs from my mother, the one on the left is something I unsuccessfully tried to natural dye with onion peels and looks like the weirdest brown-white at the moment. But, this is a stay-at-home outfit after all! A gharara on the left, a panelled sharara on the right, both from a Lucknow crafts emporium in Crawford Market, Mumbai. The flared, dramatic sashaying of these as you move about the house, or the way it fans out when you're sprawled across the couch, it's so romantic.
Kediyu – a traditional men's upper garment costume from Gujarat, which is identified by a richly gathered, ruffled panel flaring out from an empire line cut. While it's not exactly and accurately recreated, it's largely used as inspiration for women's tops by several Indian designers at the moment. The previous Gota embellished top is also a kediyu reminiscent silhouette.
Gharara – Bifurcated bottoms with a joint or seam near the knee. A flared, gathered panel is attached at this joint and gives it all that pretty drama. What rests on the chair on the left is a gharara, and it's often mistakenly called a sharara by most people. There are gentle nuances to what constitutes a gharara versus a sharara, and these terms aren't interchangeable in a historically accurate sense.
Sharara – Bifurcated, wide legged bottoms that flare out from the waistline itself, often so flared that they end up resembling a skirt from afar. In picture, it's draped over the mirror on the right. Both shararas and ghararas are traditional garments of Lucknow, and if you'd like to further dwelve into the nomenclature and costume history of these two, I recommend looking through Isha ji's beautifully researched series about this on her handle – Desi Drapes – on Instagram, for that is where I first came across and learnt of these delicate nuances. I highly recommend going through her coined hashtag #RomancingTheGharara, it is an absolute delight.
5. Handloom on Handloom | Olives, sage and colour therapy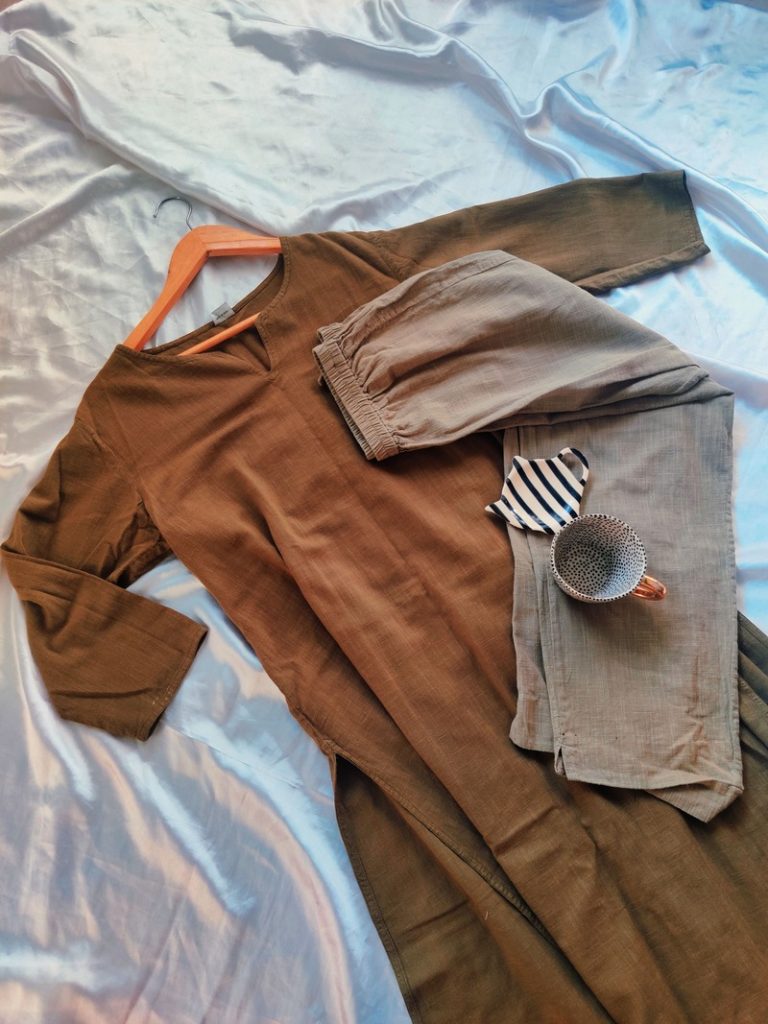 Wearing handloom at home is so heavenly in the Indian summer, because it's breathable, buttery soft and breezy in a way that even your oldest cotton t-shirt cannot be, for real. With every wash, handloom gets softer and softer. It's the most sustainable fabric to be wearing as loungewear, it releases no microplastics and feels gentle on the skin. These sage green pants and an oversized olive kurta are both hand-me-downs, so that's a double sustainable win for me with this outfit. I still associate this outfit with reading Rahul Pandita's heart-wrenching 'Our Moon Has Blood Clots: A Memoir Of A Lost Home in Kashmir' from start to end in one go last year during the very first lockdown, as much as I do with lazy sunbathing and comforting cups of tea. I love wearing monochrome, and this earthy palette of greens is so grounding. The colours we wear impact our mood, self-perception and energy in subtle ways, and learning about + being mindful of how colour therapy works is a delightful experience, if only for gently supporting your well-being in unprecedented times. I had to use that phrase at least once in this article, didn't I?
6. Thrifted, Handloom | Dainty, sexy French buttercream meets an earthy, desi Ikat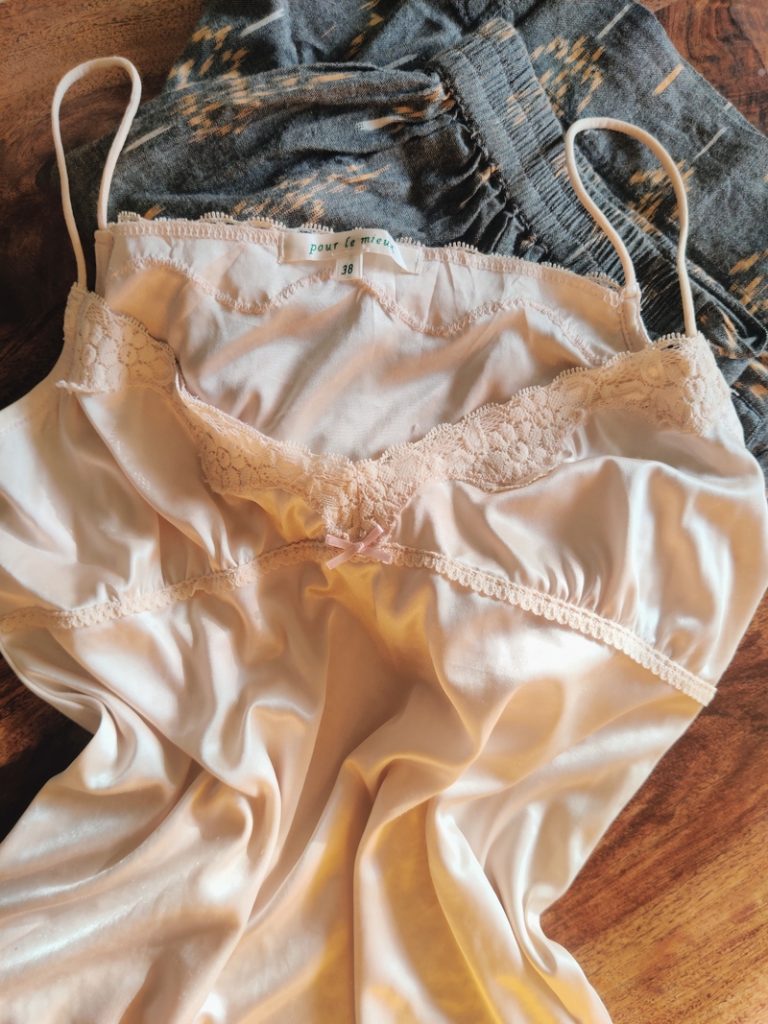 Soft, lovely handloom Ikat pants from Fabindia and a darling camisole, because a touch of French-sexy is always welcome to absolutely any outfit. The tag, 'pour le mieux,' translates to 'for the better.' I scored this from my favourite, lingerie-only thrift page on Instagram – @dainty_delicates. They're a rather chaotic page to buy from, the drops are crazy and you don't always get what you want if you aren't quick enough to book the pieces, but the quality and the curation is oh so beautiful. I've never seen any lingerie thrift source more tasteful than this one. I think thrift shopping on Dainty Delicates is the competitive sport I've taken up in this lockdown! Both my favourite worlds come together in this ensemble – a dainty, feminine, sensual thrift piece and an earthy Indian handloom.
Finally, the point of this post:
If you're reading this until here, you are so precious to me! This post has no reason but to hopefully make you smile, and to serve a reminder to you to take it easy, try to find things to feel good about everyday, indulge yourself in whatever way takes care of your mental health and let yourself be. And most importantly, to stay home if you're not a healthcare/essential worker. As an introvert, staying home comes easily to me. But I can empathise and understand how frustrating it is for so many of us to be trapped within the same walls everyday, to have no interaction but for the same repetitive energies of the people or person we live with everyday. Some days, even the very sound of the voice of a family member can make your skin crawl. Its happening to all of us! It is too easy to be anxious, resentful, bored, frustrated. It is also too easy to justify to ourselves, "this friend doesn't seem like they have COVID, we could just meet and sit apart," and a hundred variations of this. The only thing we have to do, literally, is to manage to keep our minds healthy, happy and occupied while we stay in and save ourselves as well as our family and community from all the fear, uncertainty and difficulty that can ensue upon contracting the virus from a seemingly harmless, asymptomatic person. Its a blessing and a privilege to be part of the population that only has to stay home and stay safe to play their part, and I urge you to find all the ways that you can to do this well.
I hope this was a fun read that encourages you to daydream and shop your closet by styling new combinations of what you already have to make your lockdown days a little sweeter, and to help you save money whenever the emotional impulse to shop hits you. I've been shopping a lot more ever since this pandemic, because my expenses in going out have reduced drastically, and the need for the easy pick-me-up of casual consumerism tempts you much more in this mentally draining, uncertain and downright scary time. I'd rather use my money wasted on impulse so much more resourcefully on better wine, more books, or savings for truly supporting crafts(wo)men by investing in very occasional investments of high quality, exclusive artisanal textiles like kalamkaris, fine chikankaris, southern silks and the luxury textile heritage sarees of my dreams. More than being a customer, I would like to be a patron! A connoisseur of Indian textile heritage! And that does require a lot of saving, researching, verifying and mindful rumination before putting your money into a meaningful craft cluster buy. I certainly don't discourage shopping, it is one of the sweetest joys of my life, but I do preach treating shopping as investing – being mindful and conscious of what you buy, whether you really need it, what that purchase supports and the impact that purchase has. The most sustainable thing to do is often wearing what you already have!
If you enjoyed this article, do share it with somebody you know who'd enjoy it too. Every share straight up warms my heart and helps me keep this show running! Are you inspired to feel pretty and dress up to stay at home as well? Tag Revive.Style's handle – @oorja.revivestyle – on your Instagram posts and Stories if you do, I'd be so happy to see how you make art with your clothes and share it with the rest of our tribe. Wishing you a blissful, slow, content and safe lockdown.
I have another superbly effective method I've been using to curb impulse spends that not only prevents me from buying too much, it also prevents the FOMO and lets me keep that piece in the loop. I will be sharing a new blog post about that method in the next couple of days, subscribe to the blog by scrolling to the bottom of this page for a few seconds to reach the form where you can enter your email ID – and all of our content will be delivered fresh and straight to your email inbox!