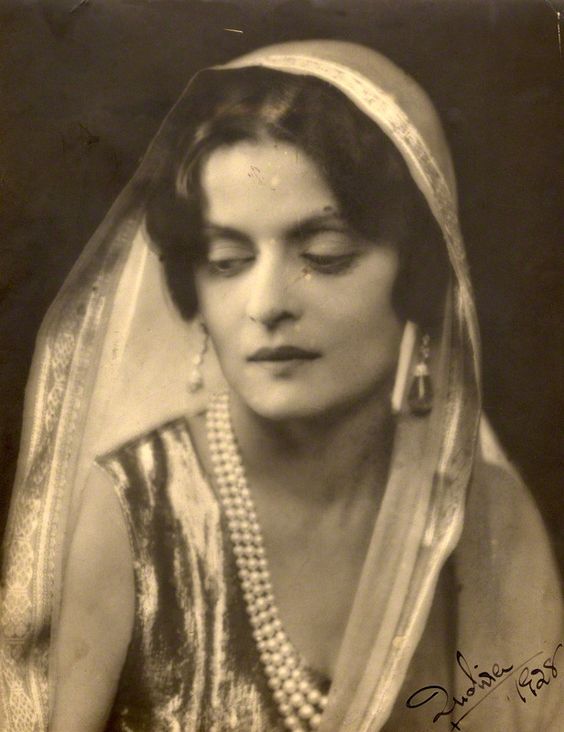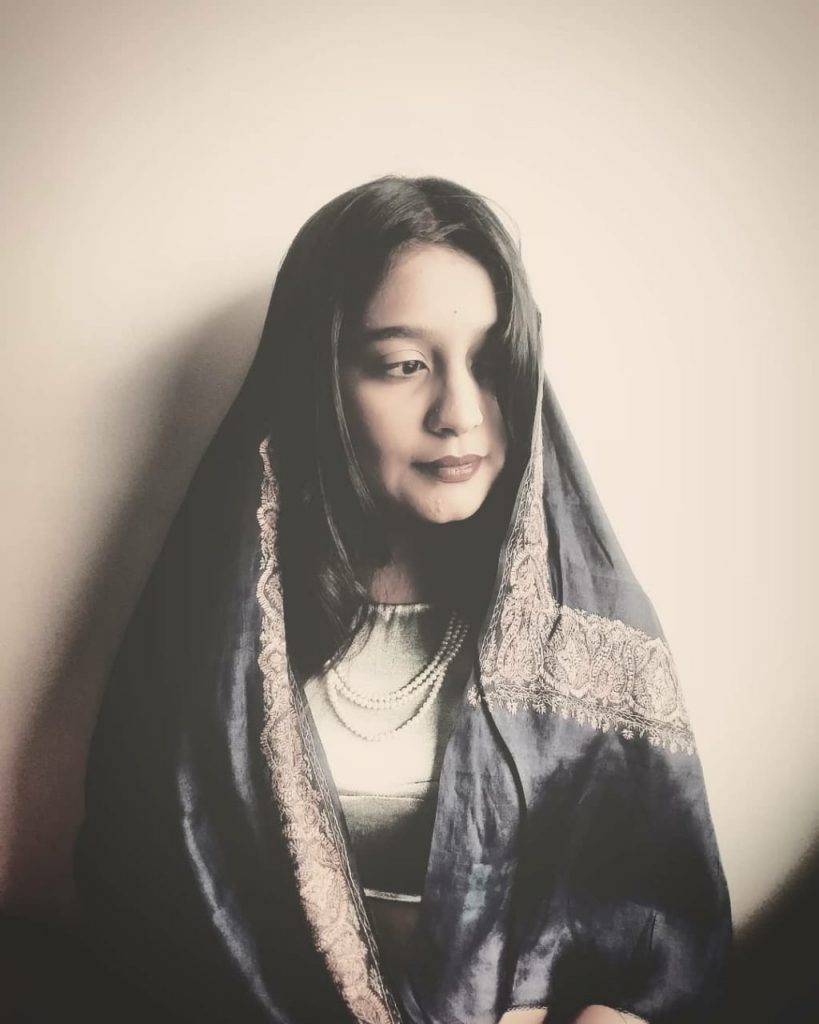 This look is inspired by a resplendent portrait of Maharani of Cooch Behar, Indira Devi – mother to Gayatri Devi. A passionate, fierce and unstoppable woman, with an immensely interesting life story narrated later in this post. AIn her portrait we find a glimmering tissue blouse, three tiered pearls and a sheer saree creating a classically royal look which was quite the favorite among the globe-trotting Maharanis of Cooch Behar. Bare face, dark lips and natural beauty are a quintessential trait of royal portraiture. My recreation of this look takes from every element except for not matching up to those glorious old school waves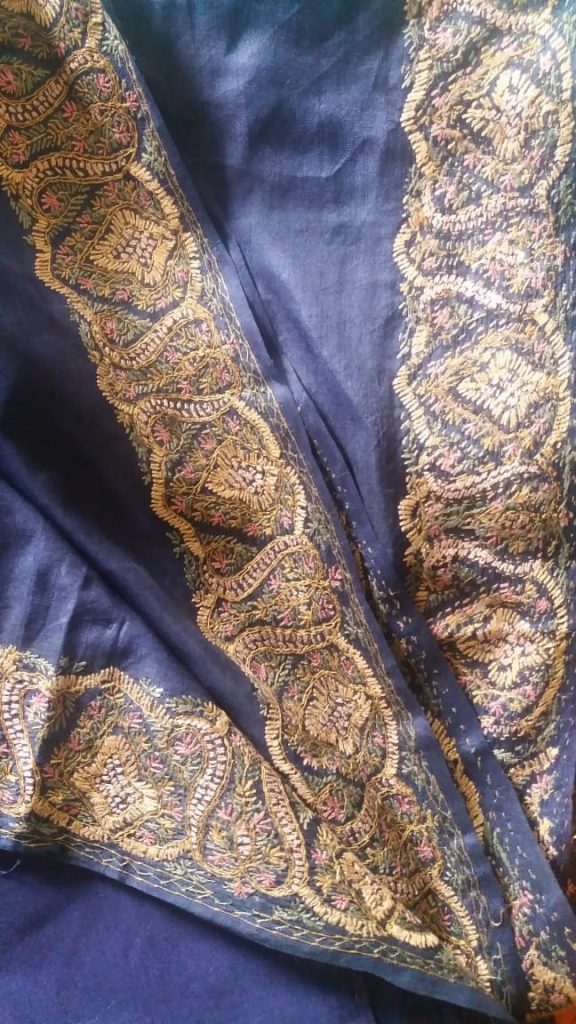 About The Saree – Sozni Work of Kashmir on Silk
I chose to wear a vintage silk saree from my mother's collection – featherlight, slightly crisp midnight blue pure silk with a hand embroidered Kashmiri sozni work border. This saree embodies elegance, old world charm and minimalist beauty – making it a perfect choice to recreate this dreamy portrait and take from it's essence.
Sozni is a style of Kashmiri needlework that is inherently distinct in tool and technique from the popular Kashida crewel work or aari work one sees in large quantities at emporiums. Sozni kaem is delicate, intensive, super fine needlework with an exemplary level of neat craftsmanship that makes it look almost the same on both sides of the fabric. This kind of embroidery is significantly more intricate, exquisite and time consuming to produce, hence making it a precious and rare art form.
Can you make out which is the reverse face and the right face in this picture?
Indira Devi (1892-1968) – Her Royally Rebellious Love Story
Indira Devi was a Princess of Baroda in her own right, she grew up at the opulent Lakshmi Vilas Palace and was betrothed at a young age to Madho Rao Scindia, then Maharaja of Gwalior. During the period of engagement, Indira attended the Delhi durbar of 1911, where she met Jitendra, younger brother of then Maharaja of Cooch Behar. Within days, they were in love and had decided to marry.
Indira knew that her parents would be aghast; many issues were involved: the diplomatic repercussions of breaking a standing engagement with the ruler of Gwalior, one of the premier 21-gun-salute princes of India. There would be scandal and universal opposition that would certainly ensue. Another important point of opposition for her family was the fact that Jitendra was the younger son in his family and thus unlikely to ever become king.
Indira circumvented her parents by taking the initiative in breaking her engagement herself, a daring act for an 18-year-old Indian maiden of that era. Without notifying anybody or needing any kind of validation, she wrote to her fiancé saying that she did not wish to marry him. This was a woman who knew what she wanted, and went ahead and did what she needed to do to get it. In Baroda, Indira's father received a single-sentence telegram from the Maharaja of Gwalior:
"What does the princess mean by her letter?" 
This was the first inkling her stunned parents had of Indira's intentions. The rejected Maharaja behaved in a dignified fashion, writing an understanding letter to Indira's father which he signed off as "your son"; however, disgrace was felt keenly by Indira's parents.
The breaking of the engagement was accomplished, but did not serve to reconcile her parents to her marrying Jitendra. Indira's parents apparently regarded Jitendra as a playboy from a reckless family; they even ventured to summon him and give him a personal warning to stay away. Nothing worked; Indira and Jitendra were equally adamant. Eventually, perhaps also in recognition of the fact that respectable alliances for Indira were now unlikely, her parents made a half-way compromise. They allowed Indira to leave their roof, proceed to London and wed Jitendra.
Indira and Jitendra were wed at a hotel in London with no member of Indira's family present.
In an ironic twist of events, Jitendra's elder brother, then Maharaja of Cooch Behar, fell grievously ill. Within days of the wedding, he died of ailments arising from alcohol abuse. Jitendra and Indira became Maharaja and Maharani of Cooch Behar.
To read further on what transpired in the life of this courageous queen, go to my information source here.
One can completely see the uncanny resemblance, style and grace of Indira in her daughter Gayatri Devi (left), who would later become Rajmata of Jaipur. Those dreamy, large eyes and the perfect cupid's bow, they are a splitting image of old world glamour.