I've always had a thing for ayurvedic, organic, all natural skincare. When I was younger (read: had a lot more free time), I had this phase where I'd only use things from the kitchen for my face – which was quite an elaborate, Cleopatra-esque routine. Nowadays I fall for naturalist marketing, delicious fragrances and lovely packaging all too easily – but we all must know this, the rules in India for publishing every single ingredient on the product are very lenient, and I know from an inside source that most seemingly natural brands do not declare a lot of chemicals going in to make their "100% ayurvedic" smell like a delicious perfume.
When I met team Skin Yoga, they mentioned a simple theory to me which was so on point that I felt like a dud for not having thought of it before – "If it's really natural, it won't smell so lovely and you should be able to eat it." Then, she went ahead and mouthed a spoonful of the face wash. Now, I was piqued.
Skin Yoga products don't have an unnaturally long shelf life, they're all basically dried powders that you mix with water before you use – just like the face masks we make at home. One difference, they use ingredients which are "activated" when mixed with water, and remain inert when dry. This helps in giving an instant glow result – something one doesn't find in home remedies – and also maintaining a shelf life as a commercially retailed natural product. Of course, if this difference didn't exist, we'd all be asking "Why not just make face packs at home then?" right? The secret to Skin Yoga's recommendable quality is that it's all natural but also formulated for exceptional results that you wouldn't get as quick with home recipes.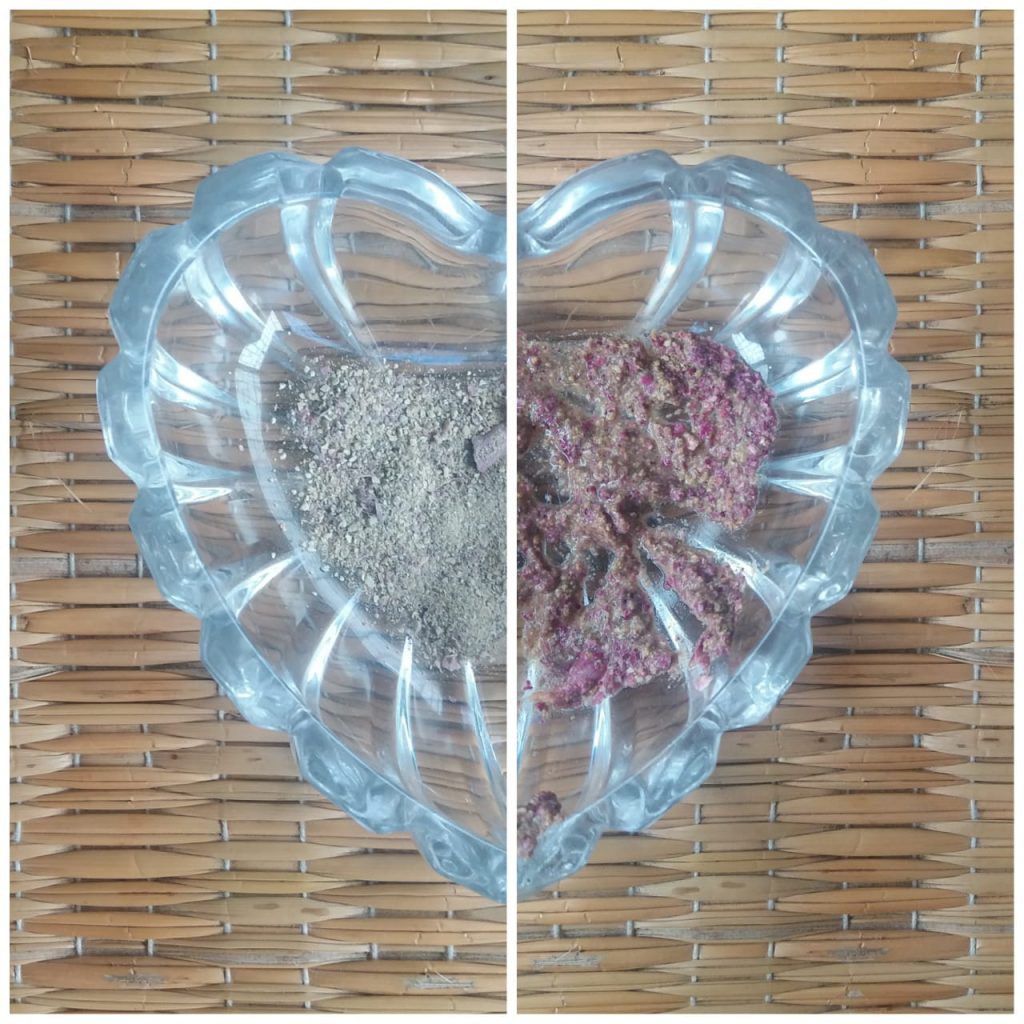 Here's one of the products, dry on the left and activated after mixing lukewarm water on the right. Scroll on to readd my experiments with and review of a range of Skin Yoga products.
The Oats & Roses Face Wash
This says mask on the packaging, but works beautifully as a face wash. You can see the ingredient activation take place in the previous image. When you add water, the dried rose petals come to bloom and it looks pinker. This smells lovely, and doesn't have a harsh "scrub" effect on the skin so it's great to use everyday, it's quite a luxurious experience.
What I need from a face wash is something that leaves my skin squeaky clean after I've rubbed off all the make up with virgin coconut oil or my cream cleanser. After a long day, my skin has primer + mousse + compact + humidity +oiliness + the grease of the make up remover. So I'd naturally only trust foamy soap to remove all that grub before I sleep, lest I break out. The consistency is soft, wholesome and fragrant, as seen below: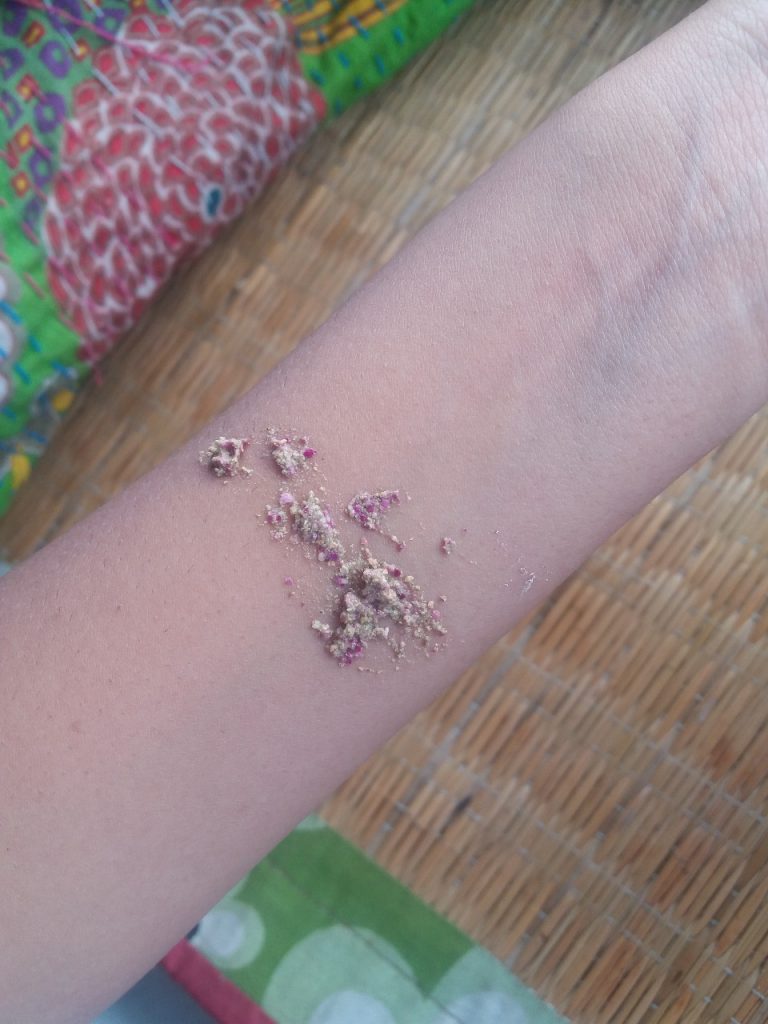 Experiment:
I used to think this natural paste was only good for the mornings when I don't have a lot of hard cleaning to do, but one night I decided to try it instead of a soap wash and see to what extent it could cleanse. I used it after my eyes were cleaned with eye make up remover and my face was coated in coconut oil, mixed with remnants of my make up. To my surprise, my skin was as squeaky clean as it can be just like it is when I use a normal soap & chemical face wash. As usual, my nose was taut because it dries out easily, and everything felt light and fresh. I had no break outs the next day so I'm absolutely convinced this can do just as well as a regular soap face wash. That's pretty cool!
I'd definitely want to head out and purchase this once my current is over, and substitute to an all natural face wash. It fulfills everything I need from soap, and it is completely organic, natural and chemical free. Win-win for those who like to use as little artificial agents on their skin as possible.
Key Natural Goodies: Oats Flour, Rose Powder, Rose Petals, Vitamin C.
Shop it here
2. Green Tea Face Mask
This smells beautiful, since I'm a green tea drinker. It contains Matcha Green Tea & Neem. Of course, like I said before, it's all edible but try not to get it in your mouth because the medicinal bitterness is not at all fun for your tastebuds. This face mask is specially meant for acne prone skin and the recommended usage is twice a week for fifteen minutes each time. The granules are quite scrubby due to the presence of rice flour when you apply or wash it off, so it's best to be gentle and not go above twice a week since too much scrubbing is never good.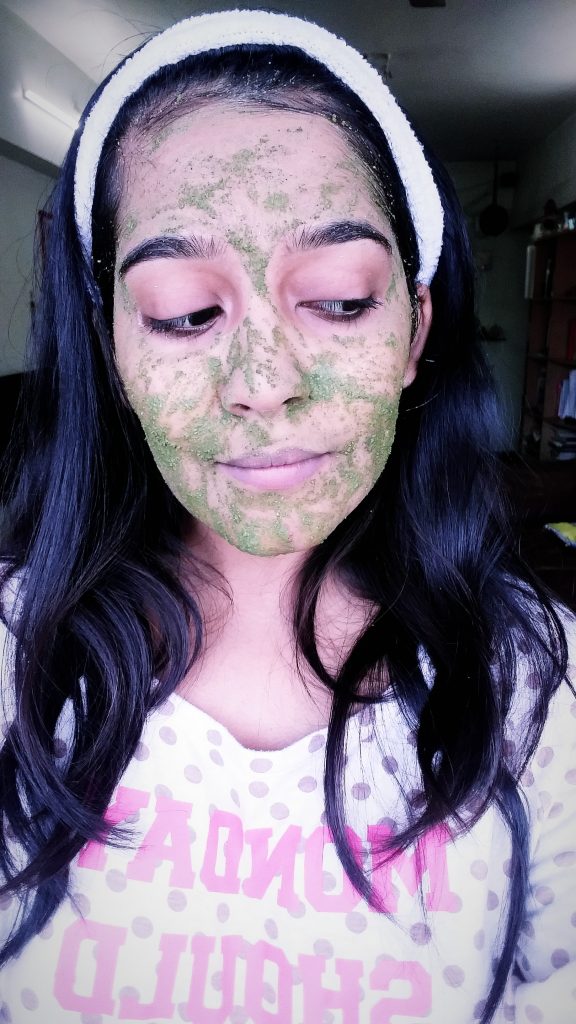 Experiment:
I often wake up with a red, painful, random smattering of break outs on my chin or forehead for reasons unknown. One morning when this happened, I thought it's the best time to mask because this formulation has Matcha, known for it's cooling effect. To my surprise, all my redness was gone and the blemishes had diminished in swelling completely. I still have a lot of product left so I can't already comment on its effect on reducing acne in the long term – but one thing I have found it to be very effective for is calming down zits before a special occasion. It works instantly to reduce swelling, redness, and it even subsided a whitehead safely for me one time when I used it as spot treatment for one stubborn, large breakout. So I love it for helping me chill my skin + dry out whiteheads when I don't want to deal with painful, fresh pimples.
Key Natural Goodies: Oats Flour, Rice Flour, Organic Matcha Green Tea.
Shop it here
3. Marigold Foot Soak
This is the perfect example of things you don't think you need but when you have them you wonder why you never had it before. Marigold flower works as a coolant to bring down body temperature, and the presence of sea salt makes this a double whammy for draining fatigue and leaving you blissed out. It moisturizes beautifully because of the coconut oil, you won't need any cream when you dry your feet after this soak. Leaves your feet smelling gently fragrant, shiny with moisture and very supple to touch.
The sight of my feet soaked in a yellow-gold mixture floating with marigold petals, smelling like a summer garden; makes me feel like a miniature art maharani so full points for that. It's a great buy for when you want to pedicure at home, or pamper yourself generally.
Key Natural Goodies: Coconut Meal, Marigold flower, Sea Salt, Coconut Oil.
Shop it here
4. Almond & Orange Face Scrub
This takes me back to my childhood when my mother would sun dry orange peel, grind it with haldi and almond powder and make me use it as face pack with milk on the regular. The Skin Yoga formulation smells and looks and tastes exactly the same – if you want to do an "I can eat my products" challenge this would be the yummiest they have to offer. I mix it in water, and the paste consistency is wonderfully soft. I'd say it is a very gentle scrub, much softer on the skin than the granules of the Green Tea Mask, and works more like a face mask than just a scrub. It's ingredients have wonderful qualities; we all know that turmeric, besan, orange and almond are classic stars in Indian Ayurvedic regimes. It smells lovely, has a gentle but not overwhelming moisturizing effect and the most noticeable quality is the instant glow. I'd recommend it for fading blemishes and improving skin texture over the long term, and for a pick-me-up before an outing.
Key Natural Goodies: Almond Meal, Gram Flour (Besan), Sundried Orange Peel Powder, Organic Turmeric.
Shop it here
5. Saffron Sandalwood Face Mask
I was advised by the team not to use this if I have oily skin or I'm prone to breakouts, because it has an intensive moisturizing effect and is meant for skin that falls between normal to dry or extremely dry. But can I resist such a delicious mix? My skin can be described as type moody, I have problems with oiliness only in the summers. I tried this one when I was vacationing in Leh Ladakh – the high altitude, severe lack of moisture in the desert air and freezing cold gave my skin a lovely mountain glow, albeit it was taut, stretchy and drying out as my body tried to adjust to sudden elevation. The moisturizing capabilities of this mask are lovely, my skin felt soft, supple and creamy once I washed it off. I'd definitely recommend this for a warm, nourished, strobe-y glow.
Key Natural Goodies: Sandalwood, Walnut, Saffron
Shop it here
The Verdict.
What I loved:
I love that their products are cruelty-free, all natural, organic and free of chemicals – it's luxury skincare in the purest form, much like the beauty rituals of ancient India, ayurvedic texts and our royal foremothers.
The products are an effective substitute to generic face washes and moisturizers.
They all smell great, and the user experience is worth it.
What can improve:
I'm quite satisfied with everything I used, and don't have any complaints product wise. I love that their packaging is plastic-free, everything is packed in cute wooden boxes, bottled in glass sealed with cork. After I finished my products, I didn't quite know what to do with so much lovely packaging lying around and it kinda hurts me to discard it. To up their eco-conscious game, it would be wonderful if they could come up with some kind of return/recycling system for us to put empty packaging in the loop? I know of a brand called Innisfree that takes back used product bottles from consumer in exchange for reward points, and recycles them for new packaging, which is pretty sweet!
Have you used any Skin Yoga products that I haven't as yet? Drop your reviews in comments!